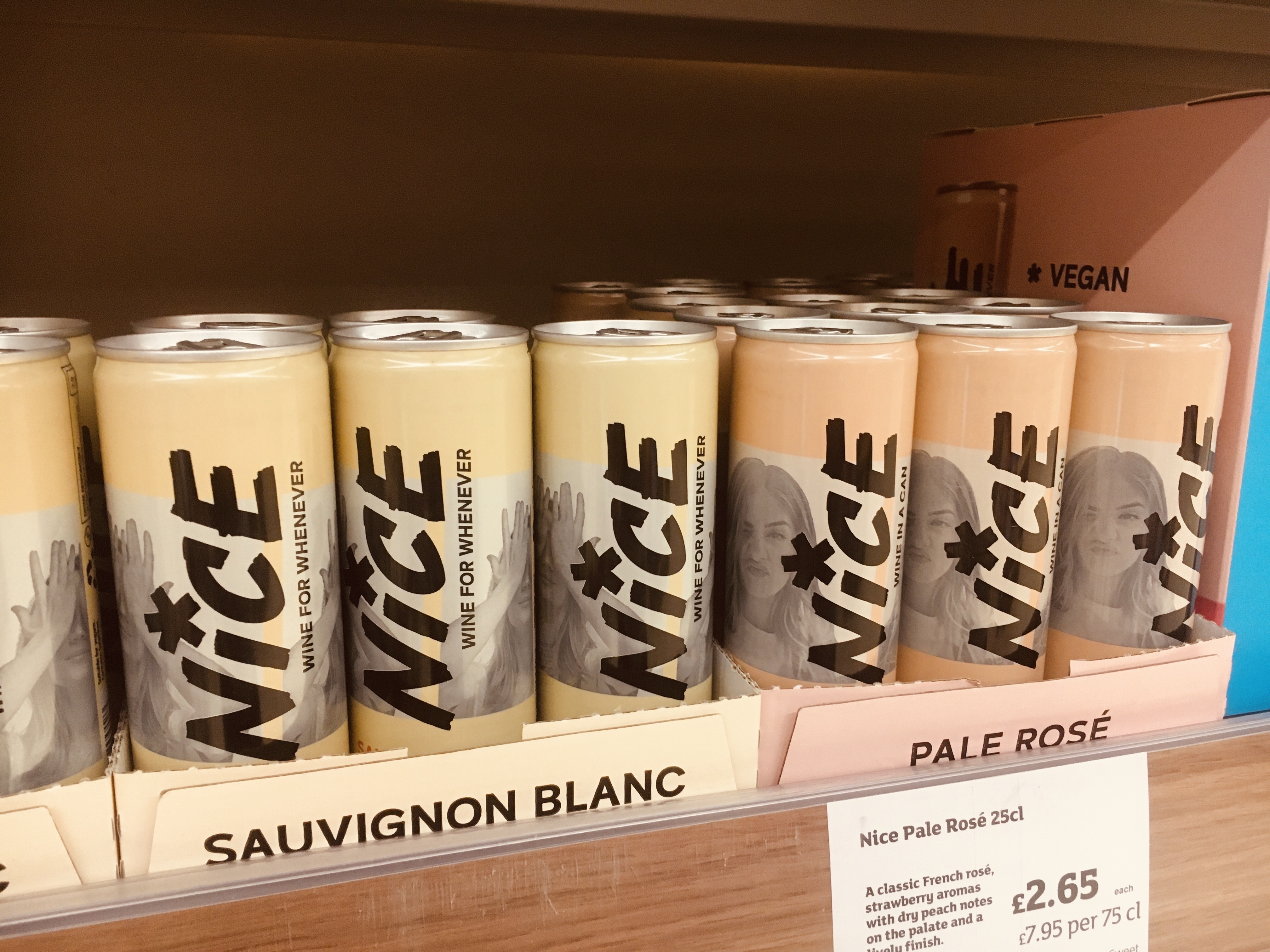 Wine drinkers raise glass to alternative packaging
Glass is still the dominant packaging for wine but consumers are showing interest in alternative formats. Laura Foster reports.
G
lass bottles may still be the leading receptacle for wine in most countries but a growing chunk of market share is being lost to different packaging formats. From bag-in-box (or BiB, as it's known in the trade) to aluminium cans, consumers are increasingly open to experimentation and packaging innovation.

Who is driving this shift? "You might think that the more educated [about wine] and higher end the consumer, the less likely they are to buy cans or small formats but it's actually working in reverse. They're more likely to try alternative packages because they have more confidence in choosing wine. The casual consumer… [is] more likely to defer to a traditional format because it's safer," declares Christian Miller, research director at the Wine Market Council in the US.

As for the key demographics, Rich Hamblin, owner of More Wine, a company specialising in selling wine in various packaging formats in the UK, points to the "younger demographic being more receptive to new, smaller packaging". However, he adds: "An older demographic who may now live alone appreciates the ability to single serve with cans or be able to pour a single glass [from BiB or pouch] without spoiling the remainder."

The Wine Market Council's US Wine Consumer Segmentation Survey, October-November 2021 also showed the greatest adoption of smaller, non-traditional packaging by Millennials and Generation X (32% and 36% of market share respectively).

There are also stronger sales amongst the Hispanic, black and Asian-American communities (26%, 44% and 34% respectively). "This is correlated to age, as a large percentage of black and Hispanic wine consumers tend to be younger," explains Dale Stratton, president of the Wine Market Council.

But what packaging is out there and looking hot to trot? Here's a breakdown of the key runners and riders in the field of different wine packaging.
Bag-in-box
Bag-in-box wine has been undergoing a renaissance for some time. Once seen as the preserve of cheap wines and student drinking games, BiB can now be found in quality restaurants, containing quality wines, often from boutique producers.

Consumer adoption is rather a curate's egg across different markets, however, as Hamblin explains. "The UK is behind [BiB adoption, with the market] comprising 3%-5% of wine sales. In Scandinavia, it is circa 60%, albeit due to monopoly buying. French supermarket wine sales are 40% BIB," he says.

The US is somewhere in the middle, with BiB accounting for 17.5% of the total volume of wine sales, according to SipSource (an aggregation of sales between distributors and accounts).

Looking at the issues BiB faces, Hamblin reels off a list. "They still have a plastic element to them, which is a barrier to adoption to some. [Historically], the poor-quality BiB wines where the tap and bag seal were less good, and the association of only poor-quality wine being served in BiB. [Finally] no ability to age wine in BiB."

Despite these potential issues, Sweden's adoption of the format is particularly high, thanks mainly to state controls on how alcohol is sold there. "The reason for the popularity of boxes in Sweden is hard to pinpoint exactly but it is a very economic package for producers, meaning that the price per litre becomes an advantage," explains Ulf Sjödin, head of category management at Systembolaget, the government-owned liquor store chain that holds the monopoly on alcohol sales in Sweden. "In a monopoly market like Sweden, consumers plan their purchases more than they do in free markets, so boxes also become more convenient since you can bring home all the wine you need for the next weeks."
Flat rPET bottles
The latest innovation on the block is a flat wine bottle made from recycled polyethylene terephthalate (rPET). Created by UK design company Packamama, these vessels look like traditional bottles in cross-section but turn them sideways and they look practically flat, hence saving space.

"Innovating in shape unlocks game-changing efficiencies throughout the supply chain, fitting up to 91% more wine on a pallet, 83% more on a retail shelf and double in the home," explains Amelia Dales, Packamama's commercial director. "Our bottles are fully and easily recyclable. Our eco-flat bottles can reduce the CO2 footprint of wines currently offered in glass bottles by up to 50%."

Launched in the UK in 2018, Packamama signed a deal with Accolade Wines in March 2020, with the first bottles going to the Nordics in May 2020, and the UK later that same year. The design reached Australia this year, with sales being so strong there that Accolade has increased its production run and the number of wines available in the packaging. "We're also in serious discussion with a number of reputable and respected wine brand owners and are looking forward to seeing many more great Australian wines in our bottles next year," declares Dales, before stating that Packamama's target markets are those where wine travels through long supply chains, with the US being next in the company's sights.

So far, so good, but there are two roadblocks to this particular format: the use of rPET means that some consumers are put off by a cheaper feel; and secondly the shelf life of these bottles is between 19 and 21 months, limiting the sorts of wines that are likely to be packaged in them.

"Most wine gets consumed within that time anyway. But that doesn't mean that people don't think about it," says Miller.
Other players in wine packaging
Tetra Pak
Wine cartons with a cardboard outer layer and an inner aluminium foil layer first launched this millennium and have seen modest uptake since then.
Tetra Pak boasts some of the same benefits as the flat rPET bottles in terms of the environment thanks to saving space and being lightweight. However, recycling can be tricky depending on location due to the materials used being composite.
SipSource data in the US states Tetra Pak only accounts for 1.1% of total volume sales, while Sjödin states sales for both PET and Tetra have "increased in the last year". The jury is still out regarding this format.
Pouches
Nicknamed #bagnums by Du Grappin wines, wine pouches are made with layers of food-grade film, are usually available in 1.5l packages and sometimes with a handle at the top. They have a tap at the bottom, like BiB, that prevents air ingress, keeping wine fresher for longer.
While it boasts environmental benefits thanks to being lightweight and is a space-saver during transportation, the opinions of those I spoke to didn't appear to back this format, with Hamblin pointing to the inclusion of plastic being a problem.
Meanwhile, in the US, Stratton was even more forthright. "I don't see a path forward for pouches, they have been in the market for some time and never got much retailer or consumer support. I don't think they solve a consumer need that box or Tetra Pak don't already solve."
Cover Image: Nice Drinks canned wine on sale in Sainsbury's in Crayford, south-east London. Image credit: Nice Drinks