Supply-chain woes ease but cost headaches linger
Covid-19 and the war in Ukraine upended supply chains and fuelled costs. The worst of the disruption has eased but challenges remain, Conor Reynolds reports.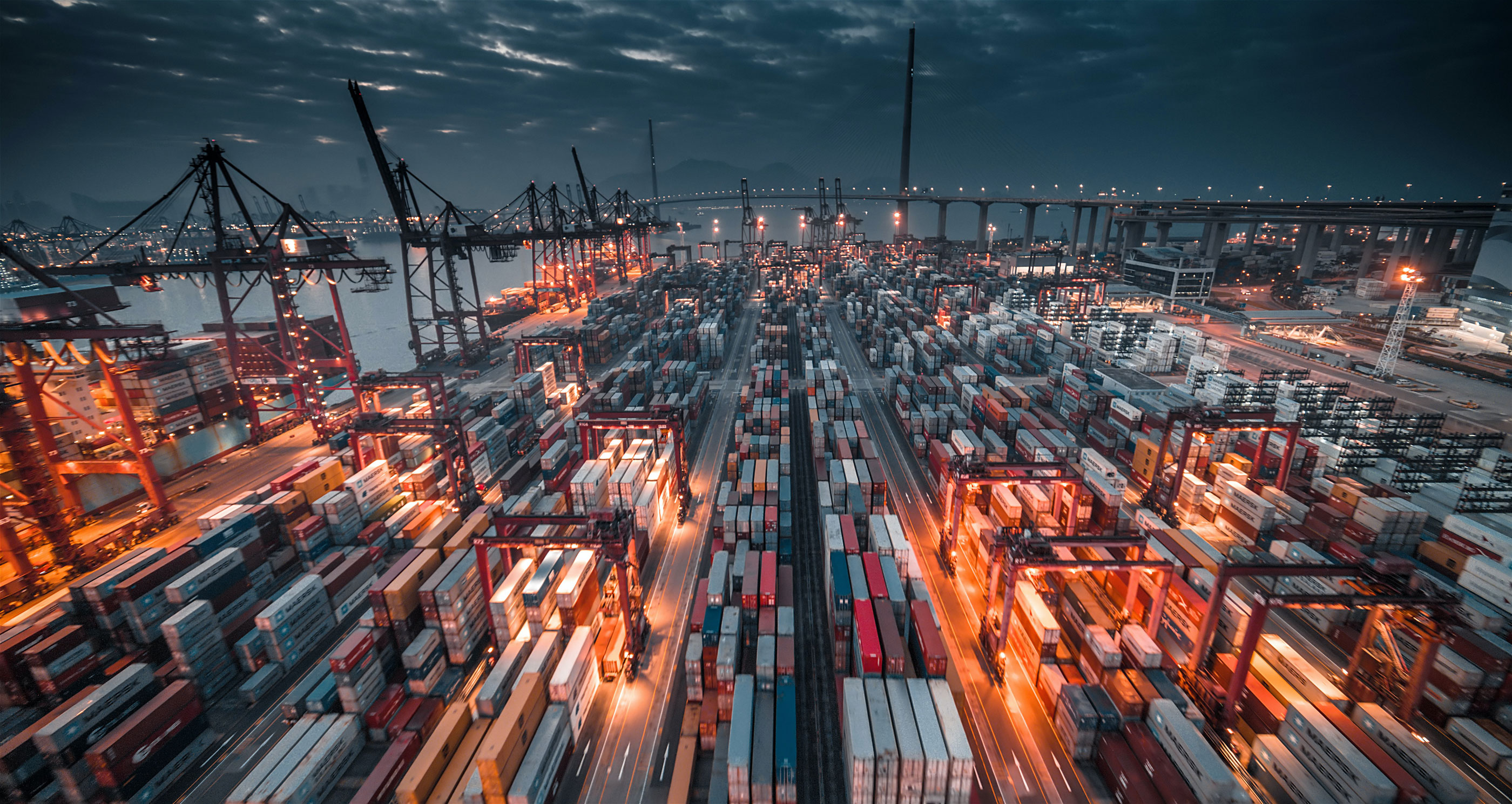 Credit: Credit: Timelab Pro on Unsplash
Following the chaos created by the Covid-19 pandemic and the invasion of Ukraine, there have been signs in recent months the volatility seen in drinks industry supply chains has eased.
The cost of freight has fallen, the availability of inputs like glass has improved and a number of executives have reported a more stable supply-chain picture.
The upward pressure on some input prices seen in the last year has eased but the cost of other raw materials remains significant, while some executives say the drinks industry may be moving into a period of high wages.
The sector has, in the main, recovered from the worst of the disruption to supply chains seen from 2020 to 2022, when the cost of distribution spiked and delays in shipping were common.

They were shipping rates from Chile to the US that went up to 300% or 400%. Timing was an issue. You had to wait forever.
Alexander Vik, owner of Chilean winery Viña Vik
"They were shipping rates from Chile to the US that went up to 300% or 400%. Timing was an issue. You had to wait forever," Alexander Vik, the owner of Chilean winery Viña Vik, says.
"It was very complicated. And obviously that affected not just the export of the wine itself but imports of all the things that were needed: bottles, labels, corks and packaging. It was everything."
Japan-based beverage giant Suntory Holdings insists the situation on costs remains "severe" but says shipping has become stable.
"While the sharp rise in ocean freight rates over the past few years has slowed down, we are looking closely at it as it may rise again in the future, depending on the supply-demand balance," a spokesperson says.
A normalisation in shipping appears to be felt broadly.
Brown-Forman chief global supply chain and technology officer Tim Nall tells Just Drinks the distiller has "definitely seen a significant decrease in ocean-going freight costs and the duration it takes in transport. We have seen the same trend for over-the-road freight."
Input cost challenge remains
When Diageo reported its annual results in August, CEO Debra Crew said the beer and spirits giant expected "continued cost pressure" in its 2024 financial year. CFO Lavanya Chandrashekar said the Guinness owner was seeing inflation "not necessarily coming down but moderating".
While the supply constraints on materials such as glass, cardboard and aluminium have eased, the picture for input costs remains mixed. In the last 12 months, energy prices have been a significant challenge for drinks companies, particularly those operating in Europe. However, even if the uptick in gas prices caused by the war in Ukraine has dissipated, the Israel-Hamas conflict is fuelling concerns about oil. Some drinks industry executives are not calling time on the pressure they're seeing on costs.
It is unlikely that we see a meaningful decline in costs per hectolitre in 2024.
Carlsberg CFO Ulrica Fearn
"Barley's come down from its peak [but] only back to the levels of 2022. Sugar is close to all-time highs, although natural gas is coming down. Then you have a whole set of other costs, like packaging, salaries, maintenance and the oil price that are increasing," Carlsberg CFO Ulrica Fearn told analysts when the brewer announced its third-quarter sales on 31 October.
Fearn said there are still "many, many moving parts and a high degree of uncertainty". She added: "It is unlikely that we see a meaningful decline in costs per hectolitre in 2024 and, actually, our best guess currently is that it will be flat COGS per hectolitre."
The Absolut Company – the Pernod Ricard subsidiary that houses brands including Absolut vodka and Malfy gin – also paints a mixed picture.
"Comparing this year's expenses against the previous year, paints a nuanced picture. Enduring high inflation rates have introduced complexities into our operations, particularly affecting our raw material expenses and leading to price increases in certain areas," Johan Blixt, the unit's supply-chain director, tells Just Drinks. "On a positive note, the reduction in deep sea freight costs has offered some respite for our transportation expenses but continued higher prices for oil and energy have partially countered these savings, too."
Credit: TY Lim / Shutterstock.com
Francois Sonneville, senior beverage industry analyst at Netherlands-based financial services group Rabobank, says some drinks companies may have benefited from hedging but those contracts are starting to run out or are in the process of being negotiated. New contracts signed in October and November will be at lower prices than the last 12 months but could still be at higher costs than a company's previous hedge. At Carlsberg, Fearn said 40% of the Tuborg owner's commodity costs were "unhedged" and the company is in talks with suppliers about next year.
Ingredients and packaging
The last 12 to 18 months have been a volatile period for some basic raw ingredients.
An example is the pressure on barley costs seen by brewers. The war in Ukraine, a drought in India, the worst barley crop in 40 years in the US and the trade dispute between China and Australia all combined to put pressure on prices.
UK brewer Northern Monk says its malt costs in early 2023 jumped 38% compared to the previous year. Co-founder Brian Dickson says the Leeds-based company also faced higher increases in the cost of utilities and packaging but emphasises the impact of malt on the firm's input-cost bill.
The pressure on grain prices has subsided in recent months with average harvests being reported in most regions, including good crops in Russia and Ukraine.
Looking forward, the recent announcement by China that it will remove its tariffs on Australian barley after three years will also provide relief. Due to tariffs on Australia barley, China has been sourcing its requirements from Europe and Canada, thus pushing up prices.

Credit: AtlasStudio / Shutterstock.com
Peter Licht, director of supplier relations for the US craft beer cooperative Independent Brewers Alliance (IBA) says that relative to 12 months ago raw material costs are steady for its members and packaging costs are down, as are transport rates.
For beer producers, a drop in the price of aluminium and canning has helped in the last six months. "Since aluminium cans are such a big part of the cost of goods, the downward trend of those has been a bright spot in an otherwise challenging environment," Licht says.
At The Absolut Company, Blixt again highlights the variations seen by the business in ingredient prices.
"Wheat prices did see a significant spike but have now stabilised, although not yet back to the rates we saw two years ago. Some fruits, such as oranges and limes, used in our flavours have seen fluctuations in availability due to weather-related issues and supply chain disruptions. This has led to sporadic price increases for these specific ingredients," he explains.
"On the other hand, some packaging materials have experienced price increases due to rising manufacturing and transportation costs but we need to manage these efficiently. We have continued to optimise the packaging by successfully removing dividers in the vast majority of our shipping cases. That compensates for price increases but also affects the CO2 emissions positively."
Labour costs
At Carlsberg, Fearn called out "salaries" as one of the "cost groups" where the brewer expects pressure.
Though inflation levels for consumers are starting to ease across markets, the recent data shows prices in many countries remain at highs not seen for years, if not decades, and workers are pushing for wage rises. A further headache for some manufacturers is the availability of labour.
The shortage of drivers is a critical issue for our company.
Suntory Holdings spokesperson
There will be wage pressure in the US where several states are raising minimum wage levels. All scheduled increases are above the $10 per hour mark, with some states taking wages to $15.
In Japan, Suntory highlights what it calls a "2024 issue" of the supply of labour. There is a shortage of truck drivers in the country and the situation is expected to worsen as new restrictions concerning overtime comes into effect from April.
"This issue may make it difficult to deliver products to our customer and consumers as we do now, as it will likely lead to a decrease in transportation capacity. It is a critical issue for our company," a spokesperson says.
Credit: Ned Snowman / Shutterstock.com
To try and tackle the problem, Suntory is collaborating with different industries. When delivering alcohol products, you can hit a truck's weight limit quickly but still have a lot of space in the container. Suntory is working with the Daio Paper Corp. to fill both the capacity and weight close to 100% by mix-loading light paper products into the available space.
Mitigating supply-chain disruption
Outside of consolidating operations – and some drinks groups, including Carlsberg and Typhoo Tea have announced factory closures in recent months – companies are trying to tighten up their logistics operations with new monitoring technology.
"Over the last two years, we have invested heavily in modernising our supply chain technologies," Brown-Forman's Nall says.
"Prior to the recent logistics issues, we didn't have good real-time visibility into our shipments. To alleviate this, we invested in FourKites to bring an AI lens to our supply chain. We are also modernising our internal business planning process by leveraging our S/4HANA planning software upgrade and Kinaxis supply chain management and sales/op planning software to upscale our global demand planning."
Suntory says it also has implemented a new logistics management system, which automatically collects data and monitors its transport fleet's location.
"This is the first such initiative in Japan's beverage industry and is expected to reduce the total number of hours logistics companies and drivers spend inquiring about delivery status by approximately 60,000 hours," the Suntory spokesperson says.
Similar efforts have been made at The Absolut Company. "In response to the economic challenges in the current environment, we've strategically invested in our logistics and supply chain systems. We've elevated and improved our sales and operational planning system to enhance our demand forecasting, providing us with a clear view of demand 18 months in advance," Blixt says. "This, in turn, empowers us to optimise our capacity allocation effectively to meet demand. These measures have been essential in ensuring the resilience and agility of our supply chain operations in these challenging times."
People have become a little bit more creative in finding solutions.
Francois Sonneville, Rabobank
At Rabobank, Sonneville says that the macroeconomic and geopolitical upheaval of recent years means procurement teams are having to deal with inflation and supply-chain volatility. However, he believes in the wake of the pandemic and the invasion of Ukraine drinks companies have adapted to fast-moving situations.
"People have become a little bit more creative in finding solutions. People have been looking at either the regions where they source from or, in some cases, if the product is not that expensive, they might have gone for a different ingredient which isn't impacted as much by the conflict as maybe the original ingredient was. But I also think that it's fair to say that we are still in a very volatile market."
Overall, there has been some relief from the worst of the supply chain volatility and elevated input costs the drinks industry faced from 2020 to 2022. However, senior executives say there are still seeing pockets of pressure.
And, looking at the geopolitical environment, that pressure could increase again. Depending on how you break it down, there are between 30 to 45 conflicts happening in the world today. Some could escalate, which could then mean a return to the disruption and rising prices of recent years