Bag-in-box: beer edition
While bulk shipping of wine has increased hugely in recent years thanks to the development of the bag-in-container - or 'flexi-container' - the need for the product to be kept under pressure during transportation makes the flexi-container unsuitable for beer.
However, seemingly with perfect timing, Netherlands-based startup Mega-Inliner has developed a 'bag-in-tank container' (BITC) system that allows for pressurisation. Another key advantage is that, as the beer never comes into contact with the tank container itself, contamination concerns brewers face regarding the use of conventional tank containers are no longer an issue.
The recyclable plastic liner is only used once and the tank container can then be used for any product on a return journey, with clear efficiency benefits. By the same token, beer can be shipped in a tank container that has previously been used for another product without contamination risk.
Mega-Inliner reports it has begun supplying brewers such as AB InBev and Mahou San Miguel with its BITC system. Founder & CEO Sidon van Laarhoven describes the system, which provides a single-use, flexible plastic inner bag inside the tank container, as a "game-changer" for the beer sector.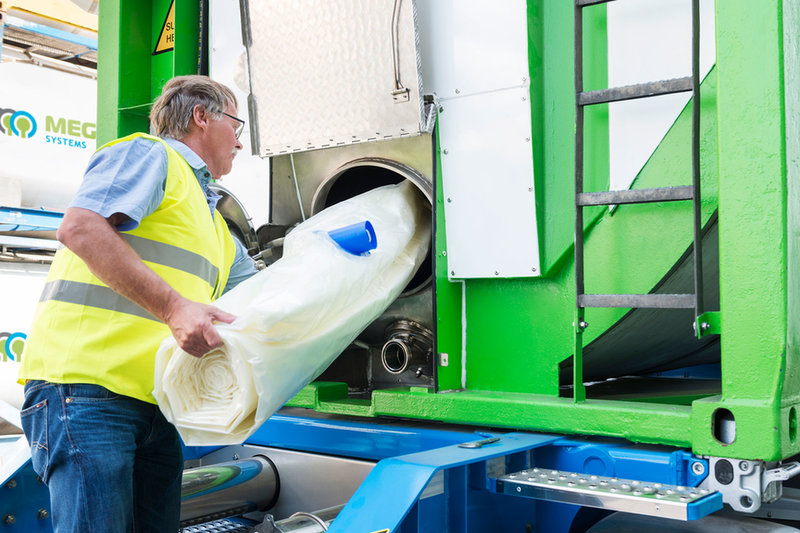 Mega-Inliner's BITC solution for beer logistics. Image: Mega-Inliner
While clearly uneasy about presenting his company as benefiting from a globally catastrophic event, van Laarhoven says the disruption in beer supply chains caused by the pandemic "opens up a huge amount of opportunity".
That opportunity should be seen more broadly than a benefit for a company offering the right technology at the right time. Brewers, and ultimately their customers and consumers too, stand to benefit from the emissions reductions this system can potentially deliver.
Change important now, more than ever
The cost and carbon efficiencies that European brewers, such as AB InBev and Heineken, could reap by switching to BITC bulk shipping to the US are particularly significant.
Research published by Netherlands-based investment bank Rabobank in March showed that using a BITC would more than halve the carbon emissions from beer shipped in kegs on a representative route from Rotterdam to Arizona, via Los Angeles.
Crucially, this research was compiled before the Covid-19 pandemic became the global crisis now being witnessed. This is no longer just a sustainability issue but one of risk mitigation and supply chain resilience, particularly against the possibility of further lockdowns and interruptions in the on-premise supply chain.
This is no longer just a sustainability issue but one of risk mitigation and supply chain resilience.
Francois Sonneville, senior beverages analyst in Rabobank's Food & Agribusiness team, who carried out the March research, believes the pandemic will be a "catalyst for change" in the US imported beer market.
Brewers would have moved "very, very slowly" towards bulk solutions, owing to a combination of high margins and consumer sensitivities concerning authenticity of imported brews, according to Sonneville.
"But, suddenly with the Covid-19 virus, I think that they'll have to look at it and ask themselves how do we get our beer now to the US without being either stuck with lots of kegs or no beer at all," he explains. "I think this is a catalyst for change and they will start to look at the supply chain, and look at wine and say: What can we learn from the wine industry over the last 15, 20 years?"