- ECONOMIC IMPACT -
Latest update: 14 July 2020
Goldman Sachs forecasts the US economy to contract by 4.6% in 2020.
100 million workers in 35 advanced and emerging nations were unable to do their jobs remotely and are at high risk, according to the IMF.
Unemployment rate in the eurozone stood at 7.4% with 12.15 million unemployed in May.
Fitch Ratings forecasts the global economy to contract by 4.6% in 2020.
Impact of Covid-19 on employment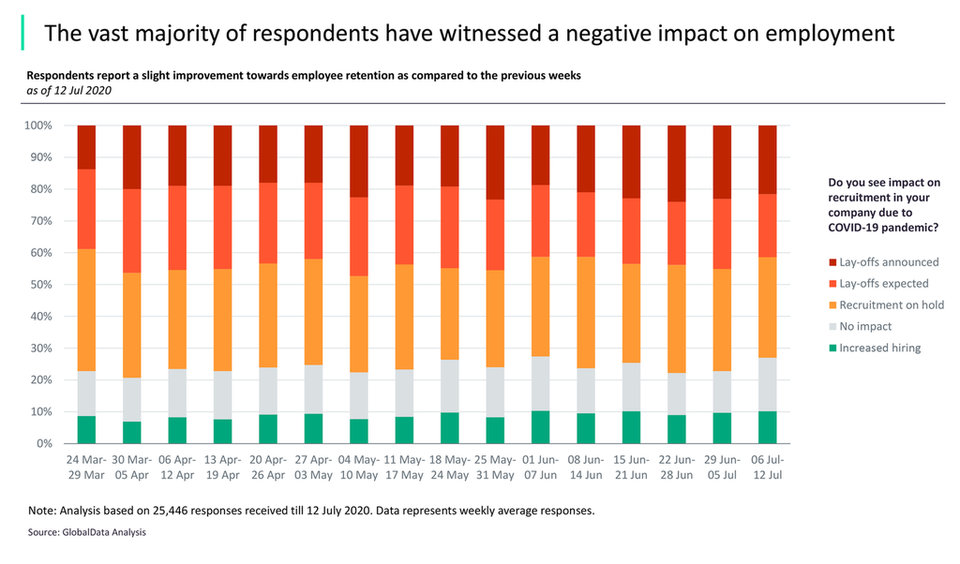 - SECTOR IMPACT: CONSUMER & FOODSERVICE -
Latest update: 15 July 2020
Unemployment and low consumer confidence continues to affect willingness to spend. Online delivery services and platforms continue to be leveraged by brands as risk-aversion is likely to characterise consumer behavior in future.
GlobalData's latest forecasts show a decline of -3.9% in consumer products for 2020 compared to baseline predictions, equivalent to $358.2bn in lost revenue.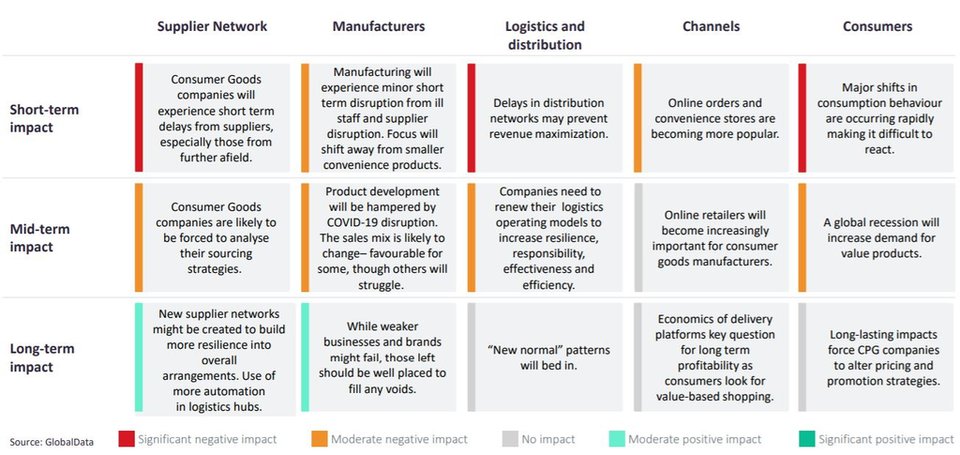 Covid-19 could change longer-term consumer behavior and the most successful companies will alter their strategies to accommodate this
Overall, the market value of alcoholic drinks in 2020 will fall by -14.1% compared to baseline predictions. Beer & cider, wine and spirits will each experience decline.
From 2020-2023, the sector will experience a slow recovery, reducing the gap between the 2023 "slowdown" forecast vs baseline forecast to –8.9%.
Non-alcoholic drinks will decline in 2020 vs the baseline forecast by -8.3% and all categories will decline.
Iced RTD tea and coffee drinks, energy & sports drinks and carbonates will see most decline, potentially linked to fewer on-the-go occasions. Hot Drinks, JNSD and water will see less decline comparatively.
foodservice market impact
All foodservice outlet types will see double-digit declines in 2020. Losses are predicted beyond this period as consumers will continue to prioritise basic food supplies over foodservice offerings despite significant developments and innovation in direct-to-consumer foodservice offerings.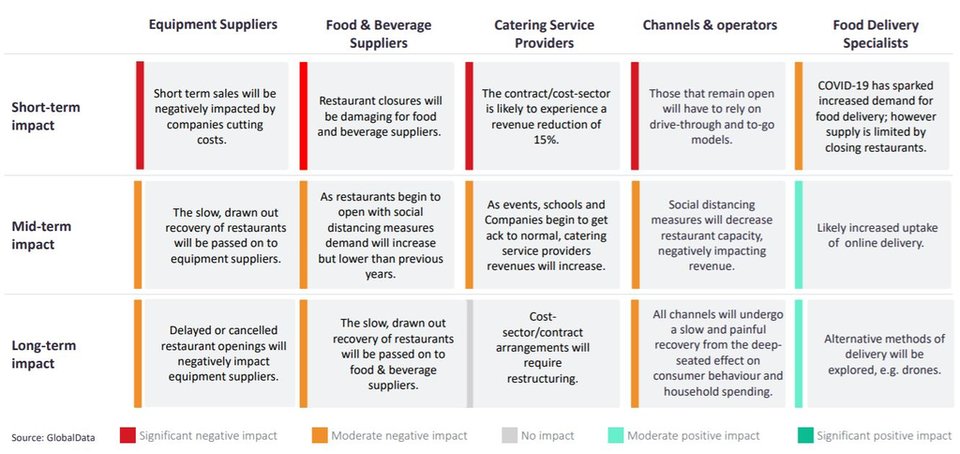 GlobalData's latest forecasts show a decline of -29.7% in profit sector operator sales for 2020 relative to the 2020 baseline forecast, equivalent to $1tn in lost revenue.
Pubs, clubs & bars are set to experience significant decline in 2020 vs baseline forecast, with -37.1% representing $169m value loss.