Spirited Away: distilleries embracing AI
The process of developing new spirits has not changed notably in many years - until now. Peter Nilson takes a look at how some distilleries are using AI and machine learning to not just challenge, but also come out on top, in the world of spirits.
In hindsight, the 1976 Judgement of Paris was arguably one of the most defining moments for the wine industry. The blind tasting event, popularised in the 2018 film Bottle Shock, pitched the new world of Californian wines against the vanguard of French wineries, with the US coming out on top.
Though the results were initially laughed off by the French wine establishment, it can be seen as a defining moment for wine where the challenger, in this case US wines, forced an industry to reconsider long-held beliefs.
As writer George M Taber succinctly surmised, the judgement "gave the French a valuable incentive to review traditions that were sometimes more accumulations of habit and expediency, and to re-examine convictions that were little more than myths taken on trust".
Recently, we've seen similar situations in the world of food. Last year, the UK's first fully vegan pizzeria, Purezza, came out victorious at The Campionato Mondiale Della Pizza, or World Pizza Championship as it's known outside of Italy. For many, the thought of a vegan pizza beating out 'real' pizzas would be impossible, but, well, it did.
Now, a new challenger approaches into the world of spirits, with the same potential to upend ideas: artificial intelligence (AI).
Challenging conceptions in spirits with AI
There have been many novel uses of AI in the last few years. Creative endeavours such as music or poetry, and even short films ranging from completely comedic to peculiarly surreal.
However, we're now starting to see some AI projects proving to be far more successful than traditional methods. Last year, researchers at the University of Surrey announced an AI tool that could predict with 100% accuracy whether or not the person was experiencing heart failure using advanced signal processing and machine learning tools. From a single heartbeat.
And in the world of spirits, we are seeing AI emerge not just as a novelty, but as a real contender.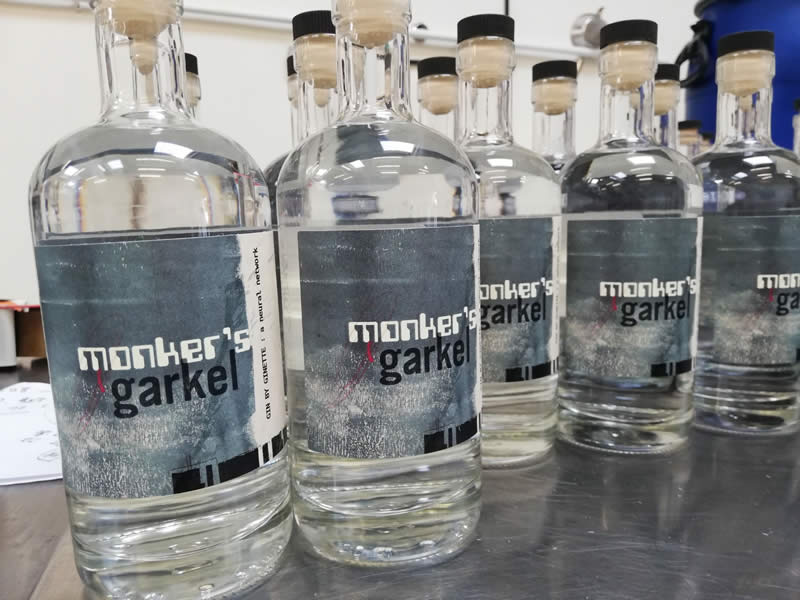 Gin by Ginette, a neural network. Image: Circumstance Distillery.
Last year, UK-based Circumstance Distillery, in collaboration with tech firms Tiny Giant and Rewrote Digital, released the world's first gin created by AI. The final product is most notable not just for the gin itself, but also the product's striking name, 'Monker's Garkel', which was created by the same algorithm that designed the recipe. In fact, as well as the recipe and name, the AI, aptly named 'Ginette' had a hand in the label design, copywriting and even runs a twitter account.
Ginette was trained to analyse thousands of botanicals, understand gin recipes and learn a database of more than 500 gin names. It then settled on Monker's Garkel, which is described by Ginette as a "fragranced" gin.
Kerry Harrison, co-founder of Tiny Giant, says that "the creation of Monker's Garkel has demonstrated that it's perfectly possible to align machine predictive power and human creativity to make something delicious, valuable and commercial".
Though the algorithm contributed to so many facets of the final product, that's not to say it was entirely without human oversight. The team behind Monker's Garkel ultimately made the final decision based on options created by Ginette, acting as curators as opposed to creators.
"At present, AI and machine learning are not a substitute for the skill of the distiller," says Liam Hirt, co-founder of Circumstance Distillery, "but we have clearly shown that they can make a valuable contribution to all aspects of the development process, from the recipe to the naming and labelling.
"We trained Ginette well, and with a little human help and guidance, her product is interesting, attractive and, most importantly, delicious."
AI: not just a contender, but a winner
2019 also saw Swedish distillery Mackmyra launch 'Intelligens', which the company claims is the world's first whisky created using an AI programme.
The product is the result of a collaboration between Mackmyra and Finnish tech firm Fourkind, which was given Makmyra's 75 whisky recipes, supplemented with customer feedback, evaluations, reviews and ratings.
Using this as the raw data, Fourkind built an AI model running on Microsoft's Azure Cloud Computing platform and AI cognitive services that generates new recipe suggestions.
As with Ginette and Monker's Garkel, it took time and effort. Angela D'Orazio, Mackmyra's master blender, admits that the initial recipes were essentially "useless": either overly complicated, or mixing flavours which any blender would know are overpowering without even needing to try the drink.
What we are doing is absolutely right.
And that's not surprising, because "algorithms don't have minds," says Jarno Kartela, principal machine learning partner at Fourkind.
"Even though they lack human expertise, we can teach machines to understand which elements make up past recipes and products, and how these are perceived and ranked by customers and experts."
However, after months of revisions and AI training, the recipe that is now being used in Intelligens was finally created. Launched in the autumn of 2019, the blend has been surprisingly successful - and not just as a novelty.
Intelligens was awarded Gold and Best of Category in the 2020 Craft Spirits Awards Competition, organised by the American Distilling Institute. Being judged ahead of more traditionally blended offerings was validation for Kartela that AI is something that should not be looked down upon.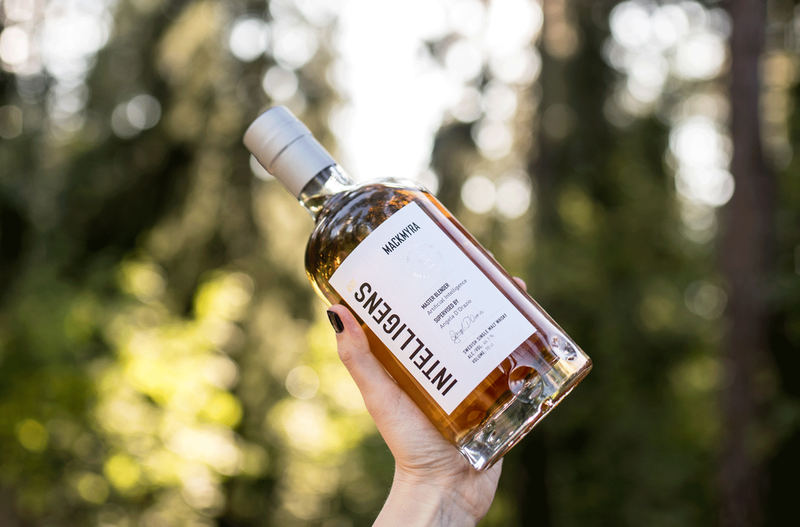 Master Blender: Artificial Intelligence. Image: Mackmyra.
"When we started the project, our goal was to push the boundaries of what's possible with technology but at the same time create something that competes with the world's best products without any gimmicks," he said following the awards.
"That Intelligens has won Gold in a prestigious competition really proves that machines can be used to augment experts in very diverse ways and I'm optimistic about what the future holds."
Of important note is the fact that Intelligens was not in the 'innovation' category as you might expect. No: the whisky recipe created by a machine was awarded top honours in the International Whiskey category.
"Now that an incredibly competent jury has awarded it a Gold medal and the Best of Category is great proof that what we are doing is absolutely right," said D'Orazio.
It is a bit of a leap to draw definitive parallels between the Judgement of Paris and Mackmyra's success at the Craft Spirits Awards. An algorithm can't create a product entirely on its own; not yet at least. However, if Intelligens' success has done anything, it's given credibility to AI as a tool for distilleries to seriously consider in the future.