- ECONOMIC IMPACT -
Latest update: 7 October 2020
GlobalData's latest forecasts show a decline of 4.0% in consumer products for 2020 compared to baseline predictions, equivalent to $362.6bn in lost revenue.
Alcoholic drinks and cosmetics and toiletries continue to be the major drivers of losses in percentage terms.
Africa and Asia are set for the fastest decline of revenue in percentage terms, with a 4.5% loss versus the 2020 baseline in each region.
Unemployment will reach 11.1% of the total labour force across the Organisation for Economic Co-operation and Development (OECD) member countries by Q4 2020 in a scenario where there is not a second Covid-19 wave, according to OECD forecasts.
- SECTOR IMPACT: CONSUMER & FOODSERVICE -
Latest update: 7 October 2020
Suppliers with international operations continue to acknowledge the necessity of moving away from single-source dependencies, as well as the incorporation of digital tools to improve resilience throughout and beyond the pandemic.
Coca-Cola's second quarter revenues declined by 28%, driven by the decline of out-of-home sales.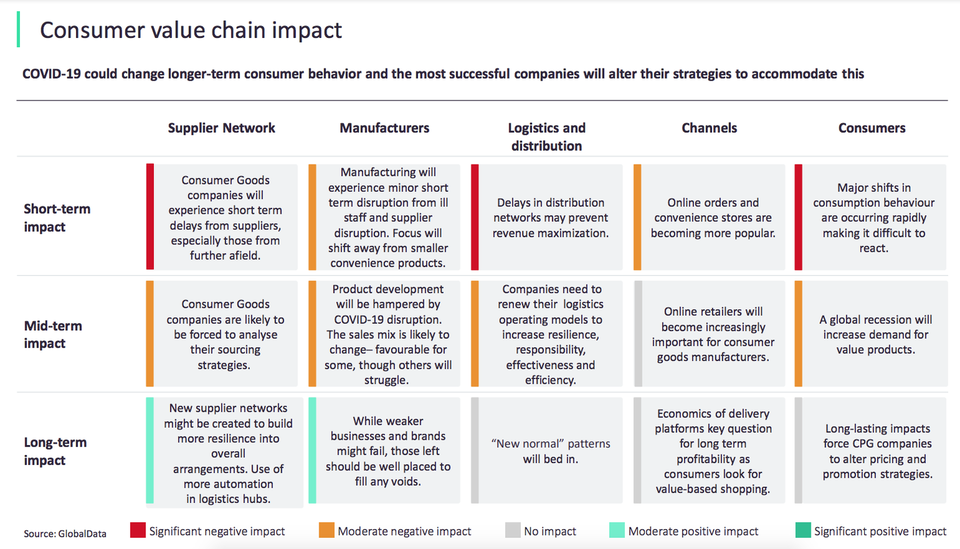 Most categories in non-alcoholic drinks will decline in 2020 versus the baseline forecast. Carbonates, energy & sports drinks, and iced ready-to-drink (RTD) and coffee drinks will see the most decline, potentially linked to fewer on-the-go occasions. Fruit powders and squash & syrups will see marginal growth in 2020 vs the baseline forecast.
All categories in the alcoholic drinks sector will decline in 2020 compared with baseline predictions. Beer and cider, wine, and spirits will each experience double-digit declines. From 2020-2023, the sector will experience a slow recovery, reducing the gap between the 2023 "slowdown" forecast versus baseline forecast to –7.7%, from -13.9% in 2020.
foodservice market impact
GlobalData's latest forecasts show a decline of 29.6% in profit sector operator sales for 2020 relative to the 2020 baseline forecast, equivalent to $1tn in lost revenue.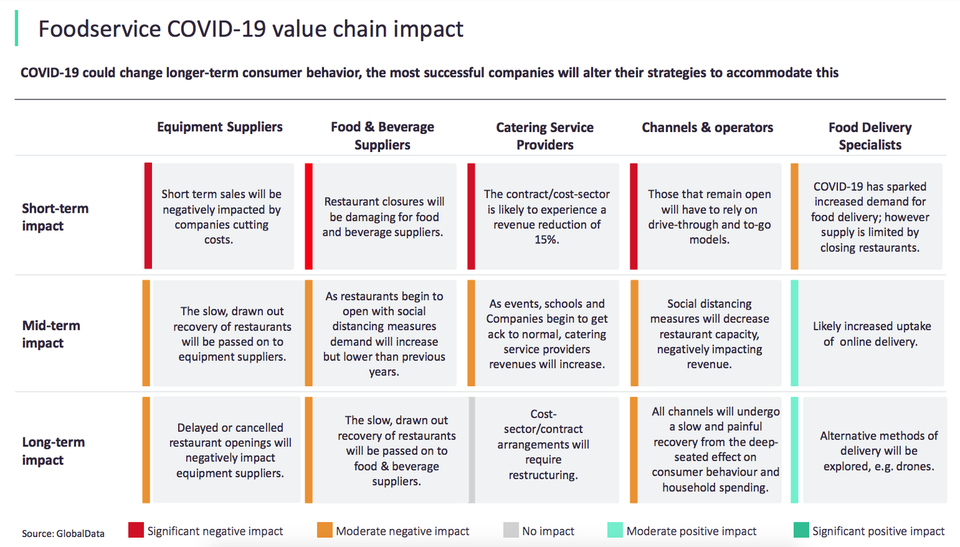 North America will see the greatest decline in percentage terms, 34.4% below 2020 baseline forecasts. Asia will see the largest decline in value with a predicted $386bn loss versus baseline, down 26.6%.
Pubs, clubs and bars will experience significant decline in 2020 versus baseline forecast, with a 37.6% fall representing $171.7bn of value lost.