Why are spirits brand owners still getting women wrong?
The recent unveiling by Bacardi of its Plume and Petal brand backfired somewhat, with the group stirring up a social media storm with the lower-abv vodka. Spirits commentator Richard Woodard thinks he may know what the problem was – again.
I've got an idea for a new drinks brand, and it's bound to be a winner. It ticks all the Millennial zeitgeist boxes: low in sugar, low in calories, low-ish in alcohol, mixable, perfect in a spritz. The flavours are on-trend too: cucumber, lemongrass, camomile, lemon, elderflower, lavender.
It's a vodka that's not a vodka, because it's only 20% abv. Think of it as the perfect halfway-house between a full-strength white spirit and a hard seltzer. Stick it in a glass with a load of ice and soda water and it's only 83 calories – that's 30% less than your average glass of Chardonnay. It retails at that sweet spot of just under $20 per 75cl bottle and, oh my goodness, it's even gluten-free. How can it possibly fail?
Well, I could call it 'Plume and Petal', then wrap it up in some of the most offensively gendered, dayglo-pink marketing that we've seen since BIC's girly biros or – my personal favourite – Lady Doritos (rose petal and lavender flavoured tortilla chips in a handbag-sized packet).
Ignorant marketing inevitably backfires
Would Bacardi's Plume and Petal have been a success under a different name and with a less simplistically targeted marketing approach?
Maybe, maybe not, but Bacardi's decision to go with the "something for the lady" strategy has handed the brand – and, I'm pretty confident about this, given the outraged reception – a millstone around its neck before it's even hit the shelves this weekend.
The mind does boggle and the jaw does hit the floor. According to Bacardi, Plume and Petal is going to "completely redefine the 'girls' night in' drink experience with a refreshing alternative to wine that women could feel good about". But, are female consumers actually attempting to redefine their girls' night in and looking for a refreshing alternative to wine that they can feel good about?
It gets better: Plume and Petal is, apparently, "spa-inspired". It's as if some bright marketing spark asked the question: "What do women really like?" and arrived at the answer: "Spas".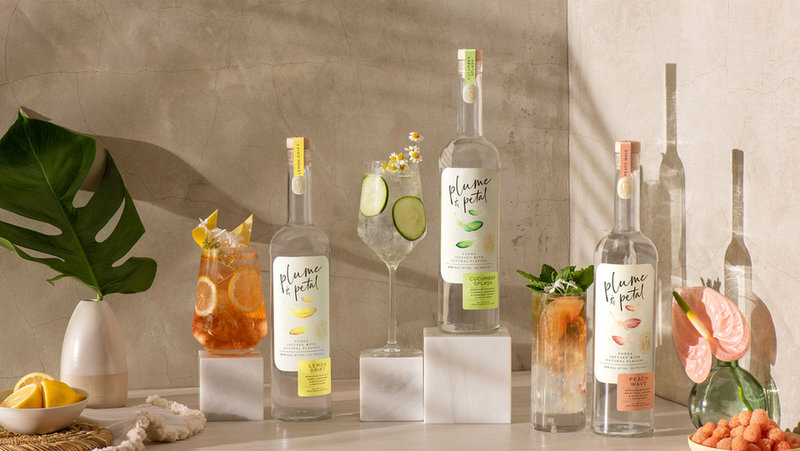 The Plume and Petal range. Image: Bacardi
And, just in case we didn't pick up on Plume and Petal's target market, there's this: "Plume and Petal, Bacardi Limited's first spirit design [sic] by women, for today's modern woman, intended to be enjoyed with other women." Careful with that sledgehammer, now.
Following the all-too-predictable social media backlash, the company has conceded that it wasn't "proud" of the gendered approach. But, its protestation that the creators of Plume and Petal, led by senior beverage scientist Shelly Menze, are women? How does that make it better? Doesn't that make it worse?
What's more troubling is that we've been here before, and it never ends well. Never mind BIC and Doritos, how about Diageo's stomach-churning tie-up with Pharrell Williams, Qream? Or AG Barr's Barbie-tastic energy drink, Rockstar Pink? How about Molson Coors' reassuringly light bottled beer, Animée?
Do we really need gendered marketing for drinks?
It's nine years, almost to the day, since I wrote this article on our website, bemoaning the disappointing marketing efforts of spirits brand owners towards women.
To judge by this week's launch of Plume and Petal, nothing's really changed since 2011, despite the abject failures of all of the above products. Not only did they cause offence to the exact demographic they were trying to appeal to, they didn't work.
Big beverage companies like Bacardi have made great strides in corporate social responsibility in recent years. Yet, there's an unawareness that there's more to CSR than promoting responsible drinking and giving back to the community.
The added frustration in this case is that the liquid itself has promise.
Rather than perpetuating stereotypes as lazy as Barbie bikes and pink unicorns, how about taking a lead and marketing products to the broadest possible demographic; human beings? If a product becomes especially popular with a specific section of the population, so be it. Just, don't tell them they've got to like it, and for all the wrong reasons.
The outraged bemusement with which products like Plume and Petal are greeted is obvious and understandable.
The added frustration in this case is that the liquid itself has promise: Mid-strength, taps into current health & wellness and occasion trends, light, designed to refresh, might even help a moribund US vodka category piggyback on the success of hotter segments, such as seltzers, and serves, such as the Aperol spritz.
Apparently, it took eight years to "perfect" Plume and Petal, and its attempt to exploit the "mindfulness movement" in drinks. Has it taken just five minutes of marketing mindlessness to screw it up?