While some functional ingredients are familiar, there are plenty more coming to the fore, driven by a general interest in health & wellness and accelerated by the continued threat from the coronavirus pandemic.
In fact, according to KPMG, the global functional beverages market size is expected to reach $208.13bn by 2024, a compound annual growth rate (CAGR) of 8.66% from 2019 to 2024.
The trend at the moment appears to be for drinks to contain more than one functional ingredient and, although not entirely new, the term 'adaptogens' has started popping up more often.
What are adaptogens?

Usually plant-based, adaptogens are described as non-toxic substances used to help the body adapt to some kind of stress. Ingredients such as ginseng and ashwagandha are adaptogens, as is turmeric, which was the additive of the moment a few years ago.
Now, in the UK at least, turmeric has become a mainstream staple in high street coffee shops, making its journey from 'haute couture' functional drink to fast-fashion beverage.
The benefit of the umbrella 'adaptogen' term is that it helps producers explain the use of more than one functional element in a drink. Take Cannabidiol (CBD) brand Oto: having launched as a range of CBD shots in the UK last August, the company's latest offer is a contender to win 2020 drinks industry 'buzzword bingo'.
The 100% natural CBD Botanical Seltzer range comes in three flavours and, according to the marketing material, contain "all-natural, hand-picked botanical extracts, including adaptogens".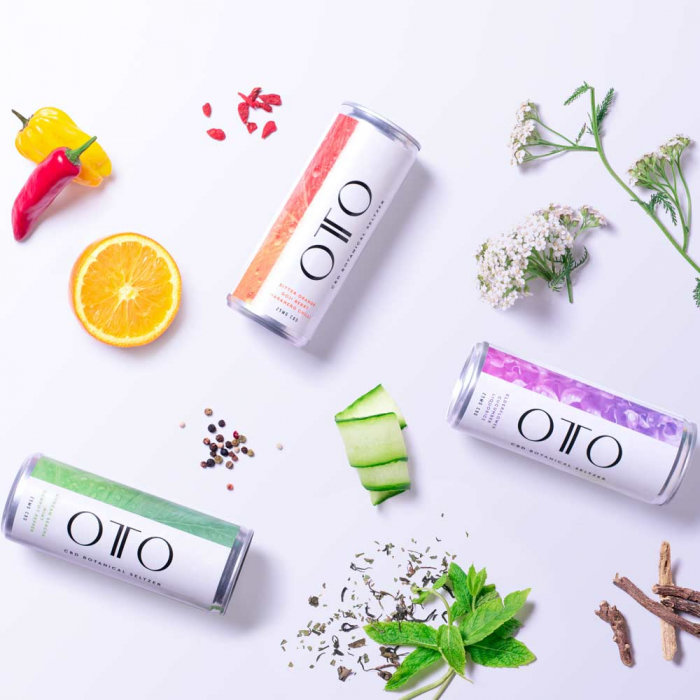 Oto's seltzer range. Image: Oto
The flavours are: Korean Sencha Tea, Mint and Kampot Pepper - said to "centre your thoughts and bring your day into focus"; Bitter Orange, Goji Berry and Habanero Chilli – to "amplify the moment and feel bright, alert and energised"; and Elderflower, Cucumber and Liquorice – a drink to "bring balance to your day".
Although CBD isn't officially recognised as an adaptogen yet, it's easy to see that it shares the 'de-stress' qualities associated with other plant-based, functional ingredients in these drinks.
And, while the seltzers category is known more recently for becoming 'hard', seltzer really just means 'fizzy water'. This cleaner, less-flavoursome base also plays into other health & wellness trends and, according to one big, US-based drinks firm, it will continue to do so.
"The area that's really emerged in recent years and continues to be strong through the crisis has been this unsweetened, flavoured sparkling water," Keurig Dr Pepper's CEO Bob Gamgort said following the company's Q2 2020 results. "I don't see any signs of that slowing down because it's representative of a shift in consumer preferences towards healthier [drinks], but also just less flavour, less sweetness in general and we see that in a number of categories."
Investing in adaptogens for the future
Beyond seltzers, other popular and already-functional bases are getting the adaptogens treatment. Last month in the US, kombucha brand Health-Ade unveiled Health-Ade Plus, a new adaptogens line.
Health-Ade Plus offers seven flavours that are "enhanced with additional functional ingredients associated with desired feelings and need-states". The beauty drink, for example, features biotin, which the company claims is "said to be great for your hair, skin and nails". Meanwhile, the energy iteration's extra function is caffeine-laden guarana "for that get-up-and-go feeling".
Larger companies, too, are starting to invest in adaptogens. At the end of July, Beverage USA Holdings purchased functional drinks company Nerd Beverage Corp. Texas-based Nerd, which launched in 2006, is described as a "mental acuity" drinks company and core brand Nerd Focus is available in about 800 retailers, as well as online.
The drink contains "both nootropics and adaptogens, creating a proprietary formula aimed to aid mental acuity". The drink's key audience includes college students, healthcare professionals and gamers.
These drinks will also continue to face scrutiny from consumers.
Looking ahead, it's not outrageous to imagine an evolution of the new wave of drinks dispensers, where consumers will not only be able to select their base drink (say, seltzer or kombucha) and flavour preference, but also a functional element. CBD for relaxation? Or perhaps a dash of ginseng to help with tiredness? There are so many functional ingredients around that we may even be able to select our own cocktail of functional fixes to add to our preferred base.
Of course, there is still some work to do to explain to consumers what adaptogens are – and it might take investment from the big players to make multi-functional drinks mainstream.
These drinks will also continue to face scrutiny from consumers in terms of whether they're truly beneficial and what quantities are needed to make them feel beneficial. It's worth noting that a lot of the language used to describe these drinks centres around phrases such as "are said to boost..." or "can contribute to...".
If adaptogens are really going to hit the mark, consumers will need some concrete evidence that they are worth their time – and their money.