2023 – looking for positivity in beer sector
James Beeson peers into his crystal ball to answer the question of what's in store for beer this year.
After finding some of their traditional revenue streams cut off for the best part of two years, brewers will have been looking forward to the start of 2022 and a return to some sort of normality with relish.
Unfortunately, global macroeconomic and geopolitical events have had other ideas, resulting in another turbulent 12 months for the category. After the pressures of Covid, the Ukraine crisis, and unprecedented inflation they'll be hoping for an altogether more straightforward 2023.
Spot prices peak but inflationary headwinds persist
The big headaches for beer in 2022 were snowballing raw material costs and soaring energy prices. Global macroeconomic conditions, spearheaded by Russia's invasion of Ukraine, have hit the global brewing sector hard in the past twelve months, with extraordinary increases in the prices of barley, aluminium and CO2. In Asia, the issue is most acute in beer's primary packaging format – glass – the price of which is almost directly correlated to the cost of energy. Wage inflation is also likely to continue, as employees demand more to compensate for rising living costs in many developed economies.
Bigger brewers have been protected from the worst of these price rises to an extent through hedging but now find themselves in the position of needing to raise prices, despite spot prices for many of their inputs starting to fall. We've already seen many of the major brewers confirm price hikes for the year ahead, in a bid to protect their margins. How aggressive brewers are with their rises depends on how resilient they believe consumer demand will be in the first six months of the year.
Less brand loyalty and some trading down
The question on not just every brewer, but every beverage brand owner's lips as we enter 2023 is around how much, if at all, we should expect to see consumers change their purchasing habits, as their wallets feel the pinch in other areas of expenditure such as energy bills and groceries.
"Affordable luxury" may well be the beer industry buzz phrase of the year. Most of the analysts I speak to concur that – in a recessionary environment where lavish overseas holidays and fine dining are out of the question – consumers will still want to treat themselves and enjoy a beer on a Friday night.
While we may not see demand dwindle, we could see the impact of the cost-of-living crisis in different ways, such as a shift from on- to off-premise consumption and consumers shopping around based on offers and occasion. The typical drinker might choose to enjoy a premium craft beer with his takeaway on a Friday night but is happy enough with a multipack of cans and a supermarket pizza during the week. Light beer's resurgence in the US is evidence to this point.
In emerging markets across Africa and Asia, rising incomes, population growth and an expansion of the middle classes mean both volume and value growth remain attainable. The big question in China, of course, is how strongly the on-premise will return now pandemic restrictions have eased.
Burgeoning 'beyond beer' segment bucks broader slowdown
In the US, beer is often unfairly characterised as being a no-growth industry. While it remains true that volumes have been and are likely to continue to stay flat, one bright spot in recent years has been the emergence and extraordinary growth of flavoured malt beverages and seltzers. Interest in seltzers appears to have waned in the last 12 to 18 months but 'beyond beer' is still a lucrative space in which to play, as evidenced by the NPD pipeline of major US brewers including Anheuser-Busch InBev and Molson Coors.
In Europe, seltzer hasn't taken off in the same way as the US but innovation remains dominated by non-traditional offerings, from Heineken's Desperados FMBs in The Netherlands, to Molson Coors' Three Fold seltzer, which was launched in the UK on-premise on draught this summer.
In Asia, 'beyond beer' is a well-explored pathway already, with the big Japanese brewers involved in everything from medicine to engineering. In their beverage operations, we should expect to see more innovation in 'non-beer' products such as soft drinks, packaged teas and energy drinks. These products are much less emission-heavy to produce, so will help Asian brewing majors meet their sustainability goals.
The expectation remains, then, that we'll see a greater stretching of the concept of beer as global brewers seek new avenues for growth. How successful that is depends on how well the proposition is understood by the consumer.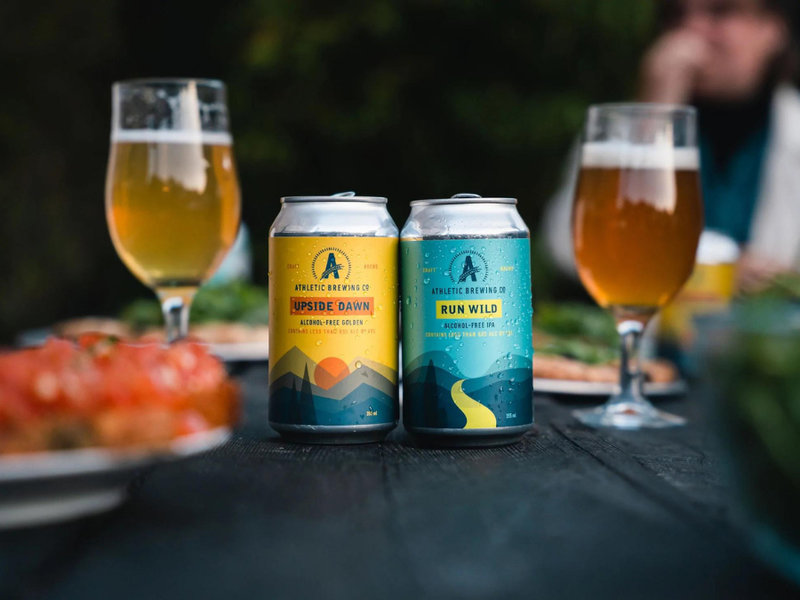 Credit: Atlantic Brewing Co.
Saturation ahead for low/no?
"I'm still looking for someone that wants to drink more alcohol next year than they did this year." These were the words of Luke Boase, founder of non-alcoholic beer brand Lucky Saint, in an interview with Just Drinks in November. While Boase might have some skin in the game, he isn't wrong and nowhere is the trend towards more 'mindful' drinking more prominent than in the beer and cider industry, the combined market for which is set for a ten-year CAGR of 11.7% globally between from 2017 to 2026.
As more consumers seek to moderate their alcohol consumption, we should certainly expect more innovation, M&A activity and focus on the low/no alcoholic beer segment in 2023. Indeed, Keurig Dr Pepper's recent minority investment in Athletic Brewing Co. proves the interest from both inside and outside of the wider beer category. Consumer understanding of the non-alcoholic proposition also varies from market to market, so there should be plenty of space for brands big and small to grow into as the category continues to expand.
Headline-grabbing growth is easier to achieve from a low base, of course. At some point, the rate of increase – as it did in seltzer – will slow and the market will become too saturated to continue to accommodate the rate of new entrants we've seen in the last five years or so. A rising tide lifts all boats but what happens when the ocean is full?
Most industry observers don't think this saturation point is likely to arrive in 2023, but when it does, the real dogfight for shelf space will begin.
A bleak picture for craft
It's hard to think of any alcoholic drinks segment (except for maybe Champagne) that had a harder time of it during the Covid crisis than craft beer. Overly reliant on on-premise sales and without the ability to sell direct-to-consumer via their taprooms, small independent brewers suffered tremendously throughout the pandemic. Their plight has only been exacerbated by the supply chain disruption and runaway inflation that has followed. The CO2 crisis, in particular, has hit smaller brewers hard, with most craft producers not possessing the technology to capture sufficient emissions from their own brewing, leaving them with little choice but to absorb or pass on the increased costs.
Craft beer's woes are compounded by the fact that competition has never been fiercer, with spirits, cocktails, RTD beverages and even cannabis all offering alternatives for the curious consumer. Recent consolidation, sell-offs and closures in US and UK craft beer reflect the increasingly challenging environment facing the segment.
In the medium-to-long term, beer industry premiumisation trends do favour craft over mainstream but it's likely to be the well-established, well-funded and well-distributed craft propositions of the biggest global brewers that will benefit most. Smaller, independent brewers will need to rely increasingly on vertical sales just to stay afloat.
Main image credit: BonStock / Shutterstock.com