3D Printing: Disrupting the Energy Drink Market
Packaged energy drinks are convenient for a quick energy boost, but can be heavy to carry around. GlobalData takes a look at an innovative beverage product in the US that tackles this problem with an empty cup and 3D-printed ingredients
Smart Cups energy drink is claimed to be the world's first energy drink packaged in cups made from plant-based materials, the bottom of which is printed with microencapsulated energy drink ingredients. When water is added to the cup, the 3D-printed ingredients in the bottom of the cup effervesce and "self-dissolve" so that the beverage does not have to be stirred prior to drinking. The brand refers to these printed ingredients as the "Katalyxt" and the drink should not be consumed until these ingredients are completely dissolved, which typically takes only a few seconds.
The energy drink itself has no calories, carbohydrates or sugar, and comes in four flavors: Tropical Recess, Pucker Up Brain Boost (a blend of lemonade and berry flavours), Nerdy Lemon-T and Magna Cum Latte. Each cup holds nine fluid ounces of water, which reconstitutes into an energy drink.
The cups may only be used once, however, since they are made from plant materials, they are biodegradable. A single cup weighs less than the average plastic bottle and requires far less storage space than conventional packaged beverages.
The microencapsulated flavour printed inside of the bottom of each cup does not harden when exposed to air for too long, unlike powdered drink mix. Five-count and ten-count packages of cups retail for $15.99 and $24.99, respectively.
33% of Americans say they avoid excessively packaged grocery products most of the time
"The technology behind Smart Cups is probably more impressive than the energy drink itself as it has broad potential to be adopted in a wide range of areas, including medications. The product itself is something of a solution looking for a problem to solve as energy drink consumers first have to track down a source of water to use the product," says Tom Vierhile, innovation insights director for GlobalData. "Additionally, the makers of Smart Cups suggest that unused cups be kept in the Smart Cups bag with the 'protection cup' that they ship with on top of the stack to preserve them longer. This also sounds less than convenient.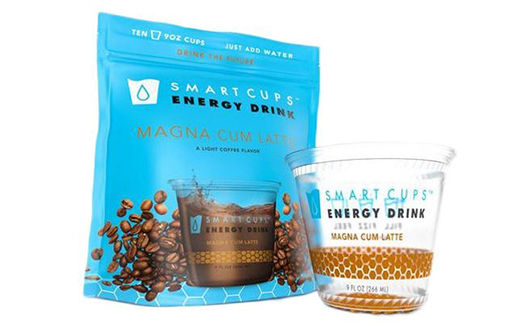 Printing ingredients could revolutionise on-the-go drinking. Credit nikkytok
"To the extent that consumers currently see packaged beverages as excessively packaged, Smart Cups could have an 'in' with consumers. According to GlobalData's Q3 2016 consumer survey, 33% of Americans say they avoid excessively packaged grocery products most of the time. This group could be the key to turning this disruptive innovation concept into a successful new product."