Bid Adieu to the Bartender: Self-serve Technology
is Disrupting the
Bar Business
Meet the bartender of the future: you. Self-serve beverage dispensing technology that has the potential to make the traditional bartender obsolete is beginning to gain a foothold in the market, and a trip to the bar may never be the same. GlobalData finds out more about the emerging technology

Wheeling, Illinois-based Innovative Tap Technologies is one of a trio of companies launching digitised dispensing systems for beer, wine, cocktails and other alcoholic beverages to bars, restaurants, grocery stores and other locations where consumers pour their own drinks. The firm's system – called PourMyBeer – is now found in more than 125 bars and restaurants in the US. The company doubled the size of its business in the last year.
PourMyBeer employs a touchscreen, beer dispensing tap, and a radio-frequency identification (RFID) card reader on a slot above the desired tap to dispense four ounces of beer at a time. An establishment using PourMyBeer provides a prospective customer with an RFID card (after that customer provides identification to ensure age verification) and links that card to the consumer's credit card to ensure payment.
The consumer can either pre-pay for a specific amount of beer or open a tab to pay when they are done. PourMyBeer limits consumption to two drinks (either 32 ounces of beer or 12 ounces of wine) per card activation. After two drinks are dispensed, the service is paused so the establishment can check and see if the consumer is eligible to re-serve.
Taps may be installed along walls or even at individual tables for maximum flexibility and pours are limited to four ounces at a time to encourage sampling. The latter encourages consumers to trade up to higher-priced beer, wine, and cocktails since there is less risk to buying a small serving than to commit to a full bottle of expensive beer, wine or other premium beverage.
PourMyBeer charges bars and restaurants up to $1,700 per tap handle along with a monthly fee for product support and maintenance. Buyers of the service find they can cut labour costs with fewer bartenders needed per shift since consumers are essentially serving themselves.
Josh Goodman, CEO of PourMyBeer sees a bright future for the technology, believing that "We could eventually be in 10% of the bars in the US." But PourMyBeer will have to fend off experienced competitors to achieve that goal. Lake Forest, California-based iPourIt and Norcross, Georgia-based Table Tap offer similar products.
Bridging the gap between humans and data analytics
iPourIt has been in operation since 2012 and says that it has over 2,400 taps in operation. The company maintains that its system has helped increase alcohol sales by an average of 39% in establishments where it has been installed.

What sets iPourIt apart from other self-service dispensing concepts is that iPourIt uses patented technology to "bridge the gap between the human element and data analytics." The company says it is the only self-service beverage dispensing technology that captures key demographic data including the gender of the consumer, their zip code, products purchased, average ounces poured, and more.

Table Tap is the oldest of the three self-service beverage dispensing technologies, launching in 2006 at the Stats sports bar in downtown Atlanta, Georgia. Since then, over 100 Table Tap systems have been installed globally. Table Tap says it has been approved by alcohol authorities in almost all 50 states in the US. By comparison, PourMyBeer has not yet been approved in several states including Texas, Oregon, Michigan, Utah, and Washington State. American states have their own alcoholic beverage regulations and rules that vary from state-to-state tend to slow the pace of innovation.
iPourIt uses patented technology to "bridge the gap between the human element and data analytics."
The implications for alcoholic beverage producers are huge if self-serve beverage dispensing systems penetrate the bar and restaurant industry in any meaningful way. For starters, self-serve systems can change the mindset of beer purchasing and consumption from a per-drink concept to a per-ounce concept.
By charging on a per ounce basis, self-service beverage dispensing systems do for alcoholic beverages what iTunes does for music. They free the consumer from having to purchase more product than they really want. iTunes freed the music consumer from having to buy an entire album if all they liked was a single song. Self-service beverage dispensing systems do much the same, while turning each trip to the bar into a sampling experience.
Self-serve beverage dispensing systems also turn bar owners into consumption data aggregators. System operators are in a position to know more about the demographics and preferences of their own consumers than the beer, wine, and spirits companies they do business with. Assuming this information is further aggregated by system providers like PourMyBeer, iPourIt, and Table Tap, the consumption data from self-service systems could be a gold mine that many alcoholic beverage companies would die for.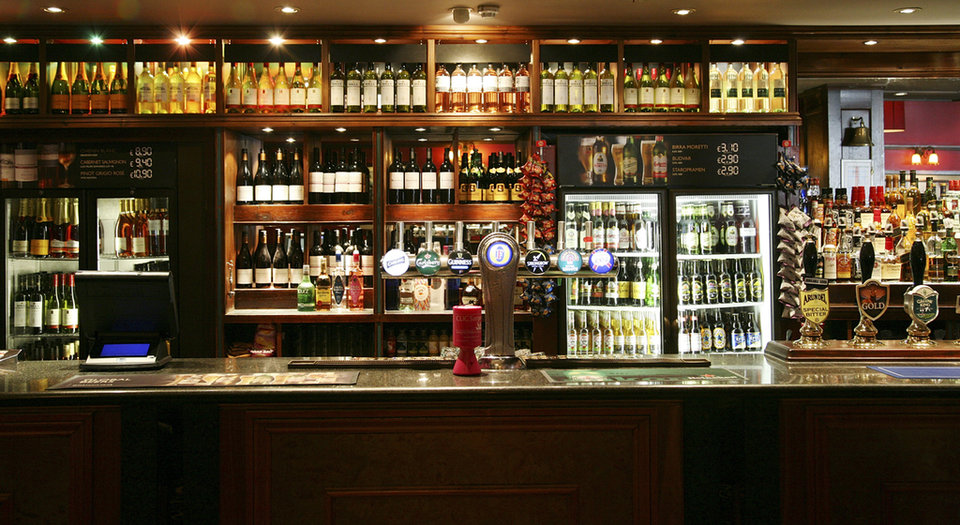 Image courtesy of Bikeworldtravel / Shutterstock.com
New beverage challenges
Launching products into this space will challenge alcoholic beverage companies in new ways. Companies will be motivated to make sure their product listings are given favourable treatment on video displays.

Self-dispensing systems level the product packaging field, making brand-specific bottle- or can-packaging less relevant at the point-of-sale. Companies will have to find new ways to contend with this.

Many establishments that are installing self-dispensing beverage systems are using them to showcase local beers, putting additional pressure on top national brands in the US like Coors, Budweiser, and Miller that are already reeling from craft beer proliferation. That is the case with the First Draft Taproom and Kitchen, a new bar and restaurant opening in the North Loop area in Minneapolis, Minnesota this spring with the iPourIt system.
System operators are in a position to know more about the demographics and preferences of their own consumers
Beer giants that see consumers as 'promiscuous' when it comes to their beer choices may have to live with the fact that new technology will further encourage this type of behaviour.

Beer consumers are already 'promiscuous' when it comes to trying new offerings. According to GlobalData's Q3 2016 consumer survey, 24% of Americans say they often try new or different varieties of ale or craft beer. That's higher than 20% that say they do the same for vodka and whiskey.

The data is similar globally, with 21% saying they often try new or different ales or craft beers versus 12% for vodka and 14% for whiskey. Younger consumers are much more likely than older consumers to be 'promiscuous' about their beer choices. 39% of American 25-34 year-olds say they often try new or different varieties of ale or craft beer versus just 14% of 55-64 year-olds.

If self-serve alcoholic beverage dispensers catch fire, alcoholic beverage makers will have to find new ways to encourage consumers to be brand loyal.