GWE rebrands in line with extended activities in the field of organic waste to energy
For nearly 30 years, industries around the world have been transforming their organic wastes and wastewaters into biogas with the assistance of Global Water Engineering (GWE). In response to an increased demand globally for organic waste-to-energy systems and in conjunction with an expansion in its portfolio of specialized technologies suitable for effective purification and valorization of biogas, GWE is now operating its worldwide activities under the Global Water & Energy brand, in order to better reflect the overall activity of the company.
Sustainability and profit work together
Many business owners see rising energy costs and more stringent environmental regulations as significant growth-limiting factors to their operations. In fact, as GWE customers have been proving for years now, sustainability and profit do work together, as long as you have an experienced and reliable partner by your side.
"GWE technologies are solving some of the biggest challenges of the modern industry, waste generation and a reduction in fossil fuel dependency"
Mr. Jean-Pierre Ombregt, GWE Chairman and CEO.
Food trays and baking molds made from Genuine Vegetable parchment are biodegradable and home compostable.
Your business can grow and thrive in the face of such challenges, but you need a supplier that will deliver a customized and reliable solution that will meet your specific needs.
Through many years of cooperation with companies generating high-strength wastewater and organic waste streams, GWE has developed a proven series of high-performance technologies applicable to nearly all industries. Food manufacturing and processing companies, biofuels companies, pulp and paper manufacturers, and breweries and beverage producers are examples of some of the industry sectors that have benefited from GWE solutions.
With over 400 various projects completed around the world, and a comprehensive portfolio of technologies for industrial wastewater, water reuse and production of green energy, Global Water & Energy continues to innovate and develop new ideas to meet the needs of its clients.

RAPTOR® - designed for maximum waste-to-energy efficiency
The 2014 Energy Award, given to GWE for its RAPTOR® technology, by the prestigious International Chemical Engineering Association, IchemE – which represents more than 40,000 chemical engineers worldwide – was a gratifying recognition of GWE's outstanding performance in the biogas energy sector for more than 20 years.
The RAPTOR® is a unique solution, covering every step of the organic waste-to-energy conversion process. Clients can count on the know-how of an experienced company, to deliver complete turnkey plants, including waste reception facilities, digestate processing, biogas conditioning, and utilization, rather than just an anaerobic digestion system.
This flexible and fully adaptable process makes it suitable for a wide variety of industrial, agricultural and municipal organic waste-to-energy conversion applications.
Furthermore, diversion of organic waste from landfills helps to prolong the life of such disposal sites, reducing the need for new ones. As it is a closed process, it also provides a significant reduction in greenhouse gas generation in comparison with a landfill or composting operation, neither of which have complete control of methane and carbon dioxide emissions.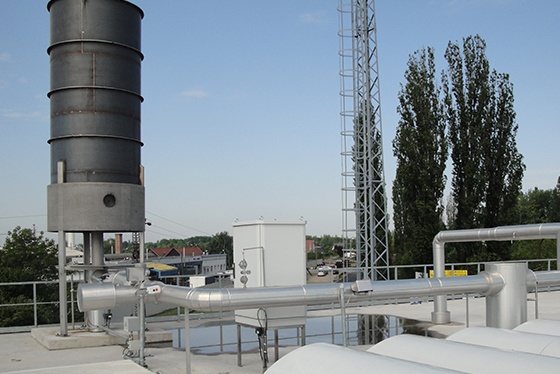 Image of Corvaglia closure manufacturing site in Newnan, GA, close to Atlanta
Global solutions for a greener future
For outstanding industrial wastewater treatment, biogas processing, water reclamation plants, and many other solutions and services, you too can benefit from GWE's unmatched blend of experience and innovation.
To ensure long-term success and efficiency, you can count on the GWE team to optimize your existing installation's performance. GWE has a proven track record of increasing the COD removal capabilities by up to 30% during the first year of taking over operations.
Would you like to learn more about the potential operational savings that can come from the use of Global Water & Energy technologies?
Contact them today at mail@globalwe.com and find out how you can increase the profitability of your business while reducing your environmental impact.