Adequate procedures and cutting-edge magnetic separation and metal detection equipment are essential for control of metal contamination to protect food product, brands, equipment, and consumers.
With an increased focus in hygiene, operator safety, and lean manufacturing practices, the combination of ultrahigh-intensity magnet systems, highly sensitive metal detectors, and X-ray units, provide the food and beverage industry with the necessary tools to successfully control the physical hazard of metal.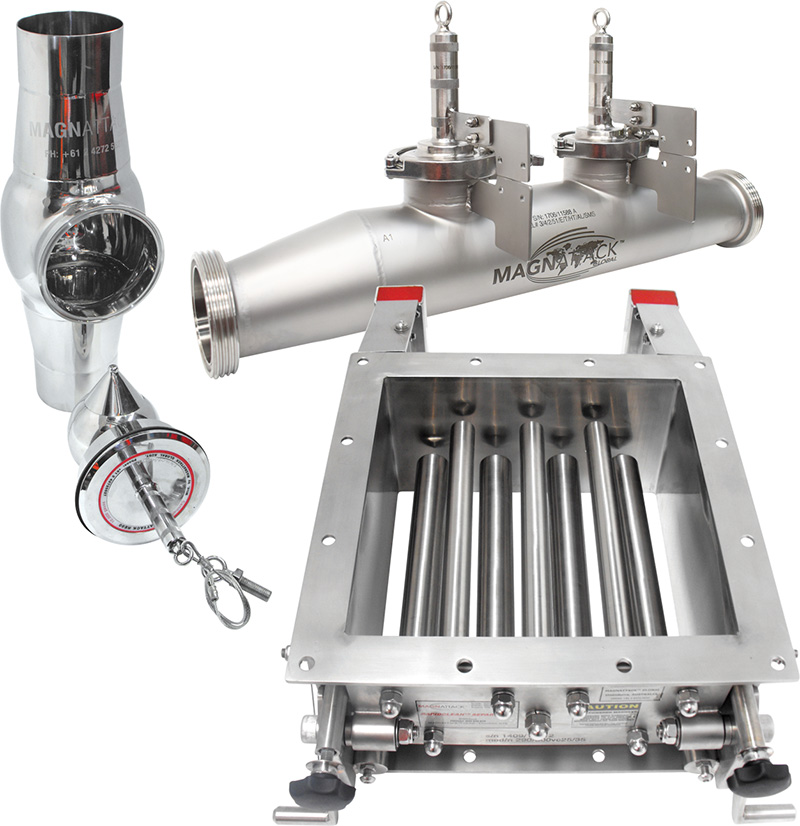 Consequences of metal contamination
If not properly detected and removed, foreign metal fragments can have devastating consequences for the food processing companies involved.
Contamination of final product
Product recall
Brand name damage
Customer dissatisfaction
Damage to expensive processing equipment
Loss of production
Reducing your risks
Magnattack™ +11,000 gauss RE80™ Magnetic Separation Equipment is designed to achieve maximum foreign metal fragment control and separation efficiency for food processing companies. Each unit is specially engineered to extract and retain fine ferrous metal and magnetic fragments in critical applications, both prior to processing and at final packing of products.
Advantages of RE80™ Magnetic Separation Systems include;
Reduced risk of contamination in final product and food recall
Increased product security
Maintain brand reputation and customer satisfaction
Reduction in nuisance metal detector trips, therefore minimizing downtime required for investigation and location of contaminated product in bulk bags and bins
Protection of expensive product machinery and reduced repair/maintenance costs
Reduced risk of dust explosion (and consequent operator injury) caused by metal entering high-impact machinery
Limit product waste and loss of production
Magnattack™ Global technicians work with the food processing companies worldwide to ensure their magnet systems are compliant with current industry standards and are providing maximum protection against foreign metal hazards.
Don't risk metal contamination – contact us today!