Will glass wine bottles ever be replaced?
As alternative packaging continues to advance, could cans, plastic – or even flax – ever outnumber glass on wine shelves? Jessica Broadbent reports.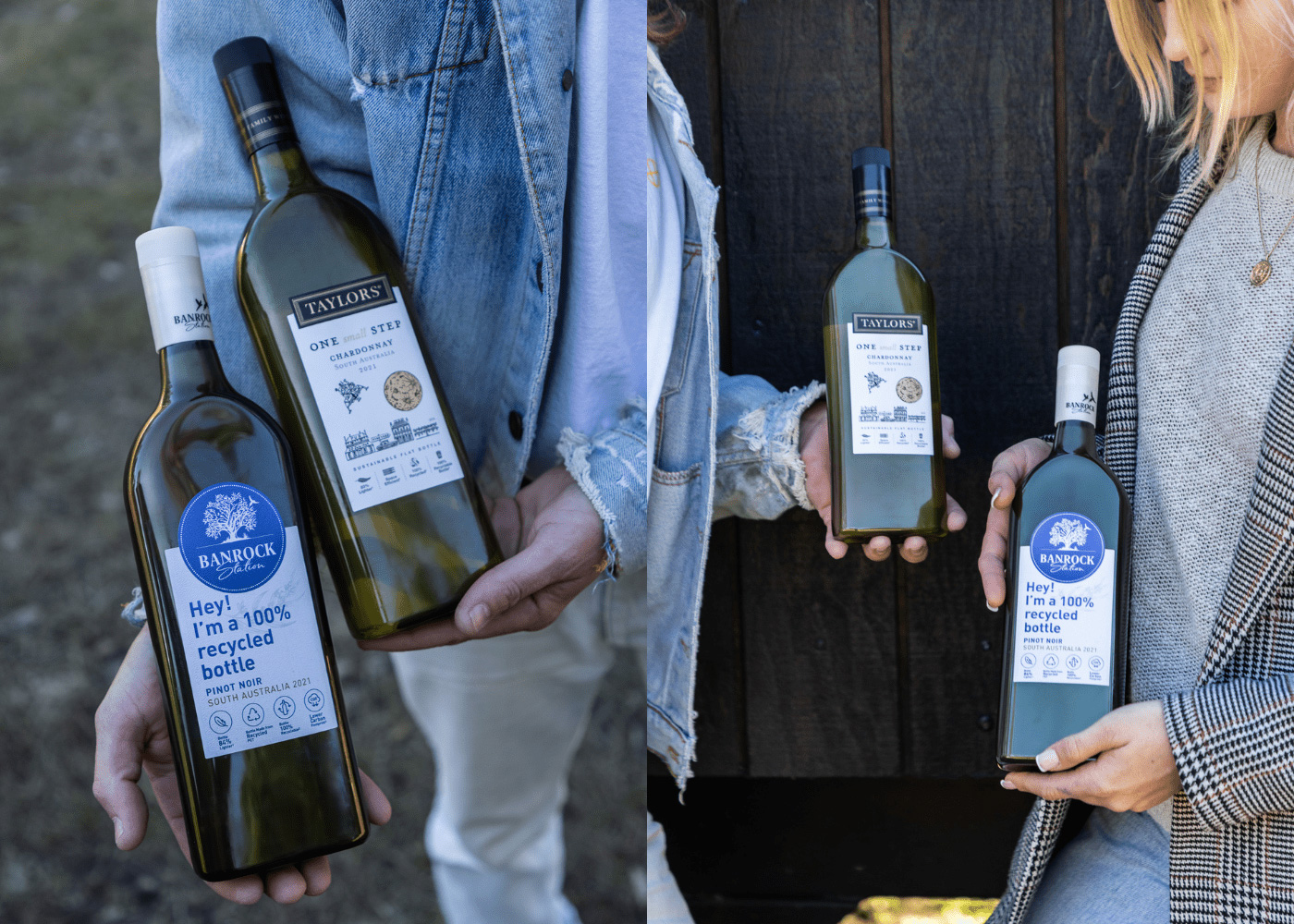 Wakefield Wines' One Small Step and Banrock Station flat rPET Packamama bottles. Credit: Packamama
Developing sustainable wine packaging can become Hobson's choice between high carbon emissions and plastic. An estimated 46% of total greenhouse gas emissions between picking grapes and bottling comes from glass production*. Add this to lugging those bottles – which can weigh almost half a kilogram when empty – across continents and suddenly they feel archaic. Especially as most wine is drunk young.
Industry veteran Andrew Ingham, who has created a paperboard-packaged brand – Interpunkt – with South African winery Journey's End, says glass production is "extreme" and the material is "not as good from a recycling point of view as consumers think". He adds: "Only a third of it actually gets recycled anyway, the other stuff goes into landfill and will last 1,000 years."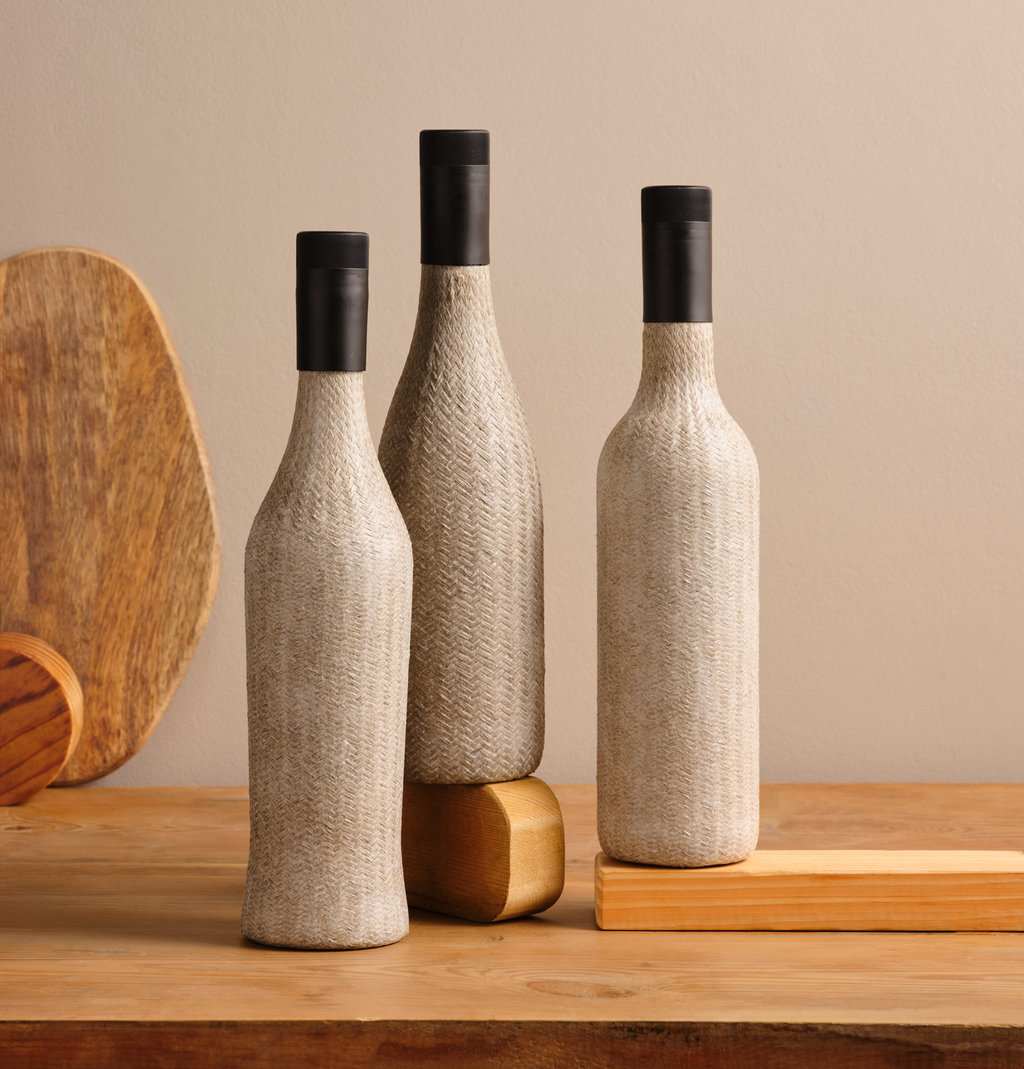 Green Gen Technologies' wine bottles made from flax
Meanwhile, James de Roany, founder of French flax-bottle manufacturer Green Gen Technologies, part of LVMH's business accelerator La Maison Des Startups, admits he "felt a bit bad, having shipped bottles all around the world for 40 years".
His sentiment is echoed by others. With wine's innovators looking beyond glass, are its days numbered?
Plastic on the rise
No matter the format, many glass alternatives contain a level of plastic. It's shatterproof, cheap to produce, recyclable – rPET can be recycled infinitely, in theory, if the infrastructure is there – and, most importantly, it is much lighter than glass.
Prompted by glass shortages, last year PET-packaging manufacturer Petainer launched virgin-PET wine bottles. They are produced at its hydropowered site in Lidköping, Sweden, and weigh in at around 49g. They are already proving popular in traditional wine markets like France, Spain and Portugal, as well as in the Nordics and eastern Europe. "We foresee it being a pretty big chunk of our single-use bottle output in the coming years," says marketing manager Jack Denley.
In Australia, Clare Valley-based Wakefield (known locally as Taylors) launched flat, 63g 100%-rPET 'eco bottles' last year made by Packamama, in collaboration with domestic retailer Coles. Within months, Wakefield doubled its rPET SKUs to four to meet demand. Packamama is also used by the likes of Constellation Brands' Hardys and Accolade Wines brand Banrock Station.
Wakefield says it wanted a 100%-recycled bottle that would take plastic out of domestic circulation. "Significant recycling restrictions" around soft plastics in Australia dissuaded the winery from choosing cask or paperboard bottles with an inner bladder.
Chief marketing officer Miles Omodei adds: "Virgin aluminium is worse for the planet than virgin PET and both are worse than recycled PET. We are still unsure how well wine performs within aluminium cans and the level of uptake by Australian consumers. Considering that the rPET is produced locally in Australia and the bottle is blown close to filling, we believe a life cycle assessment would show them to be the lowest-emission bottle format."
But isn't plastic… bad?
While plastic has for so long been the antithesis to all things sustainable, Petainer says we are "post that plastic-bashing phase".
Michael Joyes, refillable bottle programme manager, says: "I think people have a more reasoned and less reactionary approach to it now. There is that perception of 'some plastic is bad' but, when you make the case around carbon footprint, people start to think a little bit differently. You're going to get around a 70% carbon footprint saving with PET versus glass. It's also very hard to decarbonise the glass-production process.
"PET has allowed companies to produce huge amounts at very low cost with a very low carbon footprint compared to glass or aluminium."
Petainer tackled Nordic markets first "because they're a little bit further ahead than most markets in acceptance of PET wine bottles". Denley adds: "They see it far less as 'plastic' and all the negative things that go with that – they see it more as a packaging type."
State-owned Swedish retailer Systembolaget, Norway's alcoholic beverage retailer Vinmonopolet and Finnish alcohol monopoly Alko all extoll the virtues of PET. Vinmonopolet specifies all wine under NKr150 ($13.88) must be packaged in lightweight containers.
Wakefield company director and export manager Justin Taylor says the format has potential but consumers need coaxing. "It's a real communication piece because it's still plastic and there is the perception plastic is evil. We want to eradicate plastic but this is taking plastic out of the system.
Plastic really shouldn't be demonised.
"It's literally about having enough of us telling the story... and being brave enough to put some pretty premium wine into plastic. We need a handful of quality winemakers to get on board with a group of global retailers. And we need Sir David Attenborough or Kim Kardashian to sit there at a table together and go: 'This is going to save the planet' and suddenly the whole world will be on it."
Nik Darlington, co-founder of UK importer The Graft Wine Company, has long championed alternative formats such as wine on tap, which is transported in plastic kegs, and says plastic "has always got a role to play". Kegs form around 10% of Graft's turnover.
Darlington says: "Plastic really shouldn't be demonised. There are a lot of ways in which it massively improves people's lives and has made us more environmentally friendly and efficient. There's a way of using plastic better and minimising the more harmful plastic usage but it is still an incredible product. My great grandchildren will still be living in a world where fossil fuels are an important part of the global economy. Hopefully they'll be a much smaller part, but they'll still be there."
Pimping plastic
With weight central to product development, plastic is increasingly used as a leakproof inner container sheathed in another material.
For Punk-inspired Interpunkt, unpretentious sustainable packaging was even more important than the wine inside. Water consumption was another crucial consideration for the South-African winery. Interpunkt bottle supplier Frugalpac claims it uses up to four times less water in manufacturing than glass and is five times lighter on average. Even lightweight glass was a no-go for Ingham: "I just couldn't justify glass to start this brand."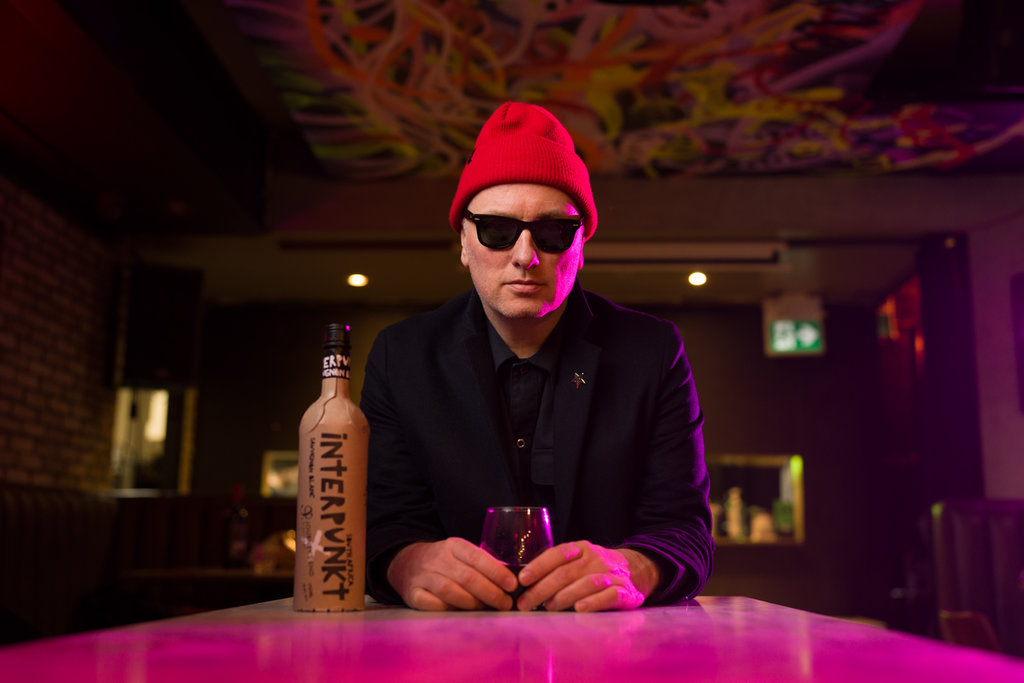 Interpunkt co-founder, Andrew Ingham.
Frugalpac's 750ml bottles are made from a paperboard outer and rPET inner bag and weigh in at around 82g. Cynics' greenwashing antennae may be twitching here but Ingham says the cardboard outer is necessary "to protect the wine from being bashed around" as well as helping it stand. "I don't think we should shy away from the fact there's a little bit of plastic involved in the product," he says. Interpunkt is working with Frugalpac to find materials that degrade more quickly for when the packaging ends up in landfill.
de Roany is marketing his flax bottles at higher-priced wines that don't require aging and feels "PET is not very smart".
"You can't sell a high-value product in just PET," he says. "Cans, PET bottles, even the Frugalpac is fairly entry level. And many of our clients say: 'Okay, this is interesting, but it looks a bit cheap.' For well-known brands, they would prefer [the flax] one."
Flax is grown widely in northern France and de Roany says it is "extremely strong and extremely light". Flax plants are easy to grow and don't need phytosanitary treatment or irrigation. The flax composite, which can be manufactured at room temperature, gives structure to the bottle, so the plastic liner is there to keep the container airtight.
The flax outer weighs 80g, the inner 50g. Like Interpunkt, de Roany is trying to reduce the weight of his PET bags and is "fine tuning" one weighing around 18g. The company also sells a PLA [bio plastic] inner that is industrially compostable but currently unsuitable for wine as it is not airtight.
Perceptions of quality
Cans are making inroads in countries like the US, which some industry players hold as a key market. Widely viewed as a vessel for cheaper wine, California's Sonoma-Cutrer says quality is improving. "We're starting to see the cans segment clear up some of the clutter," says senior brand manager Tracy Thornsberry. She argues large supermarket ranges can be "hard to navigate", and buyers are becoming "a little more discriminatory".
The Brown-Forman brand launched canned Chardonnay earlier this year but Thornsberry admits: "The real driver behind the can for us was not environmental." The brand saw a "white space" for better-quality Chardonnay in cans. It saw the format as a way to recruit consumers and give current fans a new wine-drinking "occasion". It also opened the door to on-premise customers where Sonoma-Cutrer's 75cl bottle was too expensive to list.
Similarly, UK-based Canned Wine Co. says cans give consumers a chance to try something they wouldn't buy a bottle of – and reduces waste. "Everything is experience led now rather than drinking for the sake of drinking," says co-founder Ben Franks.
Although the quality of wine in alternative formats is improving in places, there is still a perception barrier to overcome. Petainer says the "lion's share" of its customers are bottling wines under £15 in PET. Most formats can't be used to age wine longer than a year.
Segmenting the market so all wines under £10 are in lighter bottles "could be the way we go", says Darlington. But he adds: "I hesitate to endorse that because it I think it feeds into an unhelpful elitist side of what we do, which says it's ok for most people to have wine in tetra packs but us select few who really care will continue having our polluting, heavy glass bottles. But I do think that supermarkets have an important role to play in changing the mindset and forcing the issue."
Interpunkt's founders were keen to replicate the experience of buying a glass bottle and did not want retailers to stock it in a bag-in-box 'alternative' section. Journey's End associate director Tom Hanson-Smith says: "Any tweak you make [to make glass lighter] is an immediate de-spec of a product. Frugalpac's bottles look like a bottle of wine and it feels the same in your hand. We are triggered to buy based on familiarity and comfort. There's a huge element of psychology that comes into play."
The customer perception is killing cans.
Darlington feels cans have "a massive part to play" in wine packaging's sustainability journey but that "the customer perception is killing them because they assume they should be really cheap". Keg, too, was historically seen as "a way to make cheap wines even cheaper", says Darlington. "We still do see it as a way to keep prices down, particularly for wines by the glass. But, first and foremost, it is a greener, more sustainable way of serving wine."
Journey's End trialled cans in the UK but found minimum orders a barrier to entry. "If you looked at what was in wine cans in supermarkets 18 months ago versus today [in the UK], most of it has been removed because it doesn't sell so I can see how a winery would just think this is too risky," says Hanson-Smith.
Franks admits: "The challenge in the UK is persuading buyers that there is a market." Finding wine can be a challenge too; they must either persuade bulk wineries to make a high enough quality of wine to fit the brand or persuade smaller winemakers that cans are good enough for their wine.
Recycling and refills
Recycling is the Achilles' heel for most 'sustainable' packaging – which is only recyclable if the infrastructure is there to process it. Joyce says the practicalities of recycling are a challenge but plastic gets an "unfair spotlight to some extent". He adds: "Poor collection infrastructure will be something that affects any packaging format".
He advocates more deposit return schemes (DRS), which places the onus on producers to recycle. In November, the European Commission called for a DRS in all member states under its packaging regulations, though wine could be exempt. Scotland is in the throes of implementing a similar scheme, although it has been delayed. Joyes says the EU regulation is "a huge opportunity that feels like it's coming down the track".
Petainer also works with a circular-supply-chain UK company called Again, which has portable shipping-container sized washing and processing lines. "There's going to be a real explosion in this space because government legislation takes a long time. There are always people who innovate whilst governments drag their heels," says Denley.
Petainer says its bottles can be refilled 25 times but this is more of an aesthetic limit than a food-safety concern. Some customers use scratches and dents "to highlight the fact that it's a refillable bottle".
Green Gen Technologies is working with a French distributor to incentivise flax-bottle returns for recycling but de Roany is sceptical about refills. "It's possible but who is going to refill them?" he points out. He raised concerns around harsh chemicals used to clean glass bottles and remove labels which could damage rPET.
"There's no solution that's perfect," Canned Wine Co.'s Franks admits. "Glass, cardboard and plastic have all got big downsides. We use aluminium because, overall, it has a lower impact, it's lighter and it has a higher rate of recyclability."
Polled on the likelihood of alternative materials replacing glass, everyone said: "No." Most hope for government initiatives and a broader selection on shelves but would still want "a nice Burgundy" in glass.
"There's a risk that we throw the baby out of the bathwater here," warns Darlington. "Glass bottles in their current format are not great… But for all of these adaptations, there are other things you have to do to make them viable, which aren't necessarily environmentally friendly."
Despite its downfalls, there is a sense of tradition in glass that even those at the forefront of packaging innovation can't see anything surpassing. Nevertheless, alternatives are securing their place in wine aisles and will surely continue to nip at their heavy predecessor's heels.
*A. Navarro et al. / Journal of Cleaner Production (2016)