How recycling has become labels' sticking point
Beverage companies are overhauling their packaging to meet ESG targets but, as Conor Reynolds reports, labels create recycling challenges.
Investment by drinks manufacturers in recycled and recyclable packaging is on the rise as part of their efforts to become more sustainable businesses. But the decorative labels that adorns many a package can present significant challenges. And, as regulators look to act, could new legislation force demand for materials that remain in short supply?
There are manufacturers and brands that use labels made from fully biodegradable materials but these remain a minority. The majority of labels placed on drinks packaging are either PET plastic or paper-based and complicated to recycle.
As it stands, a lot of labels on bottles and cans get destroyed in the recycling process. "In many cases, the labels on glass bottles are simply washed off during the recycling process and are mixed with other paper and cardboard waste to create recycled paper products.
"However, some labels are made from materials that cannot be easily separated from glass, such as plastic films or adhesives. When this happens, the labels may be burned off or even sent to a landfill, which is not ideal from an environmental perspective," Sam Smith, a director at UK-based Smith Packaging, tells Just Drinks.
The reality of down-cycling
Recycling is not circular. In practice, plastic cannot be recycled infinitely. Most plastic labels go through what is known as 'down-cycling'.
Clear PET plastic bottles can be recycled, washed and shredded into plastic flakes, a highly sought after recycled raw material that can be melted and reconstituted into a plastic bottle – if the PET plastic is of high enough quality – but often only accounts for a percentage of that new bottle.
One of the more common recycling processes for PET plastic bottles – like those used by carbonated soda and bottled water producers – is to separate the label from the bottle at the recycling facility in a water wash where one material floats and the other sinks.
Labels, however, can be more difficult to recycle back into beverage packing or decoration. Designed to catch the eye, labels contain a significant amount of ink. These inks create several challenges when recycling labels, both paper and plastic.
Coloured plastic labels cannot be remade as clear bottles on which they are often fixed, or back into a label itself. Recycled labels will be 'down-cycled' into plastic products such as bin bags, carpet fibres, car parts and even clothing threads.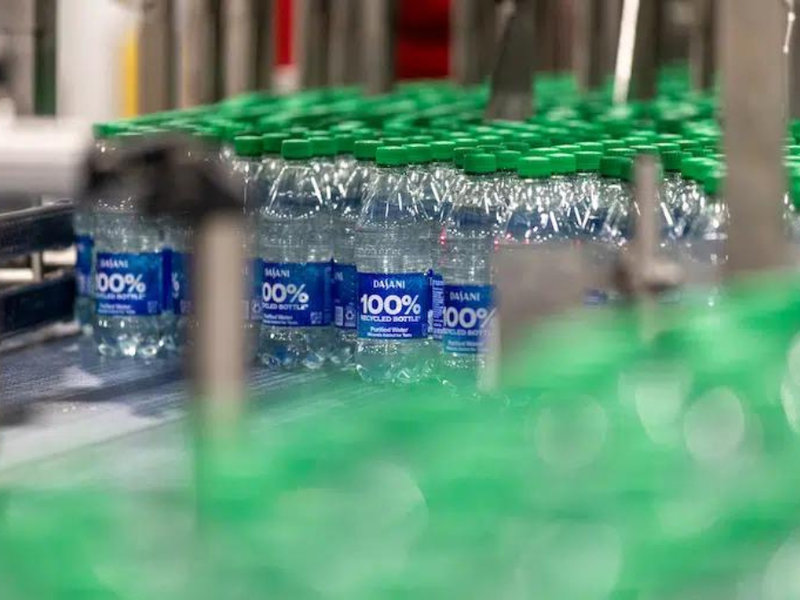 Credit: The Coca-Cola Co.
Last year, The Coca-Cola Co. said it would be rolling out bottles made from 100% recycled PET plastic for its Dasani and Sprite brands. However, the move excluded the caps and labels. Sprite bottles, meanwhile, are also being moved from a green bottle to a clear alternative. Clear PET plastic is the most common recycled raw material and avoiding colours in plastic improves the quality of the raw recycled material.
When the roll-out of the new bottles was announced, Chris Vallette, senior vice president of technical innovation at The Coca-Cola Co.'s North America unit, said demand for recycled PET plastics "exceeds supply". The drinks giant is building a pipeline of recyclable plastics by collaborating with local authorities and communities.
In Europe, one of the more preferred methods of labelling plastic bottles to facilitate the recycling of labels is the use of PET plastic floatable shrink sleeves. The sleeves – commonly seen wrapped around water and CSDs – are held on by little glue and are easily separated by the float technique and are made using a PET plastic that is in high demand.
Sticky situations
Non-plastic labels offer their own challenges. Paper labels don't use the wrap around method mentioned above and often rely on strong glue and a mix of plastic polyolefins, inks and paper.
Inks can be a concern – particularly under EU regulations – when it comes to the wash-water used to clean or separate the label from its container at recycling centres due to fears of water contamination.
"Pressure sensitive [labels] I think are the most interesting category because under pressure-sensitive labels we have a lot of adhesive on there, which makes it difficult for recycling," Stijn Billiet, global director of sustainability at US-based MCC Label, tells Just Drinks. "Label companies have actually a so-called wash-off solution where all the ink and adhesive is actually going away with the label, and again you have the same separation."
The adhesive comes off in a caustic water bath of 60-80°C but is more expensive, driving costs up on a recyclable label that may never actually be recycled.
Recyclable adhesive labels of this type contain the thermoplastic material polyolefin, which is technically recyclable but you need the infrastructure to do it, including an actual demand for the raw material.
"A country that really likes a lot of polyolefins is Germany because it's long been used in car exteriors, they have a big automotive market of course. So, any kind of recycled polyolefin is what they like to have," Billiet explains.
That gets to the nub of the recycling process: what happens to the recycled material is completely out of the control of the beverage producer. The fate of recycled materials is subject to local authorities and waste contractors, and importantly the regulations set in place by governing bodies.
Last November, the EU put forward a proposal to amend its Packaging and Packaging Waste Directive (PPWD) that aims to make all packaging recyclable by 2030 and shift greater responsibility on to manufacturers and packaging producers.
Currently moving through the European Parliament, the revisions to the PPWD would see the greater use of deposit return schemes for plastic bottles and aluminium cans. It would also create mandatory rates of recycled content that producers have to include in plastic packaging, as well as curtailing the use of new or 'virgin' plastic products.
The EU estimates that packaging alone, which includes labels, accounts for 40% of the plastic and 50% of the paper that is produced in the bloc.
"Each day, we produce half a kilogram of packaging waste per person. With the new rules we propose crucial steps to make sustainable packaging the norm in the EU," Virginijus Sinkevičius, the EU Commissioner for Environment, Oceans and Fisheries, said last November.
"We will create the right conditions for the circular economy principles – reduce, reuse, recycle – to work. More sustainable packaging and bioplastics are about new business opportunities in the green and digital transition."
"If now there's one regulation [in a particular market] saying it needs to be this and these are the rules, it will accelerate much quicker than if it's only one country that has a focus. I think those things will accelerate everything dramatically," Billiet says.
In the US last year, California introduced legislation that requires all packaging in the state to be recyclable or compostable by 2032, in addition to cutting plastic packaging by 25% over the next ten years.
The new laws aim to shift the burden from consumers to the plastic industry, which will need to fund the initiative to the tune of $5bn over the next ten years.
When the legalisation was placed on the statue book, California Governor Gavin Newsom said: "California won't tolerate plastic waste that's filling our waterways and making it harder to breathe. We're holding polluters responsible and cutting plastics at the source."
These types of regulation and focus on reusable materials should drive company adoption not just because they have to meet a certain percentage or criteria set by law but because the infrastructure needed to recycle different types of materials that go into labels will be more readily available.
Pricing pressure
Across the board, beverage companies from Kirin Holdings to Carlsberg and Diageo are making substantial ESG commitments that include targets on packaging.
Yet, the rising demand for recycled raw materials is putting pressure on smaller drinks producers with their own ESG goals, as they don't have the buying power. That raw material vacuum leaves them open to increasing packaging and labelling costs, especially if they want to create a sustainable product.
"The real volatile stuff like packaging costs and things like that have been a challenge," Peter Licht, director of supplier relations for the US craft beer cooperative Independent Brewers Alliance tells Just Drinks.
"Ancillary things like labels, if a paper mill shuts down, suddenly the paper liner stock for pressure sensitive labels gets really expensive. And those kinds of things definitely affect a lot of breweries, because their costs are suddenly going through the roof on one of those items."
Last year, the price of recyclable PET plastics jumped 103% year on year to €1,690 ($1,857) per tonne in Europe, as food and beverage companies sought to make progress on their packaging pledges.
"There's no recycled material to cover all the pledges that brand owners make. So, it becomes very expensive again but they have no choice. They need to have it," Billet says.
The introduction of more regulation targeting the recyclability of packaging products will inevitably drive the technology and infrastructure to properly recycle labels at scale.
However, that journey is only starting and some companies may have over-estimated their ability to meet targets as demand and prices make recycled raw material a much sought-after commodity.
While some authorities are seeking to shift the burden to producers, those same product manufacturers may soon be crying out for the public's help in returning empty containers so they can meet their stated targets at a reasonable cost.