- ECONOMIC IMPACT -
Latest update: 6 April 2020
Many economists have cut their GDP forecasts. The 2020 consensus forecast for GDP growth is currently negative and many predict a recession.
Unemployment rates are expected to rise in all major economies. The International Labour Organization estimates 25 million job losses worldwide.
The OECD's forecast for global growth in 2020, with some consensus estimates being far lower
Expected reduction in investments in the commodity-rich exporting nations, according to UNCTAD
Impact of Covid-19 on asset prices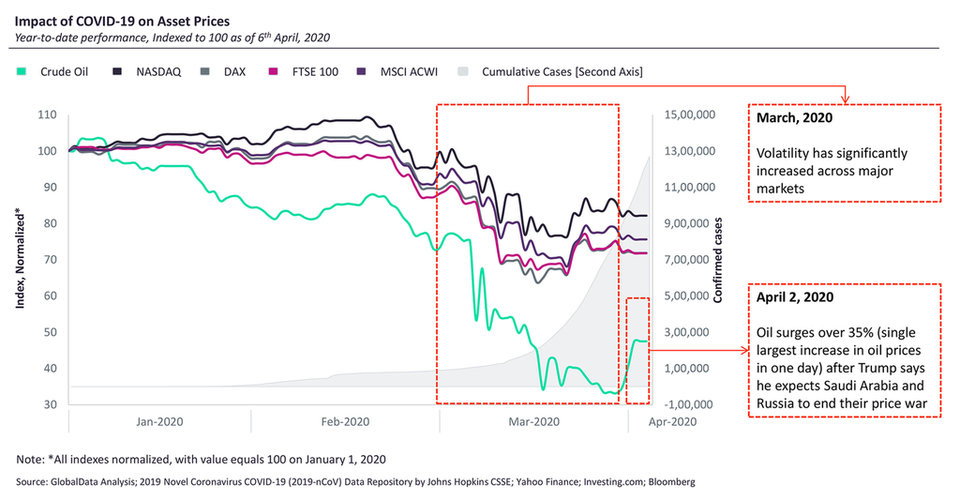 - SECTOR IMPACT: consumer & Foodservice -
Latest update: 6 April 2020
Details about consumer behaviours during the crisis are beginning to emerge. E-commerce is up, but time spent shopping is down. Also emerging are longer-term effects of altered trade patterns, creating issues further up supply chains.
Increase in groceries delivery and collection services repored by Tesco in the UK

Data collected by GlobalData shows that the time consumers spend on online grocery shopping is falling in most countries. This makes availability and brand awareness critical for share of online sales.
The squeeze on consumers' budgets will reinforce trends away from smaller, more premium or on the go pack size choices and for the affected consumer groups may see leading or more expensive brands lose out to lower-priced competition and private labels.
Social and corporate responsibility continues to be spotlighted, with recent studies highlighting that large majorities of consumers believe brands should help consumers in their daily lives and not exploit the present situation.
Foodservice market impact
The full impact on the foodservice industry is beginning to emerge. For example, in many countries 70% or more consumers are visiting fast food outlets less than they did previously. How long this trend will last, and what type of recovery will be seen, is currently unknown.

The drop in consumers visiting foodservice establishments has a massive impact on the industry. Business models and practices are adapting, but current support measures by governments are unlikely to salvage many businesses in a weak position. Maximising revenues from new channels will be the key for smaller-scale profit sector operators to survive.
Foodservice supply chains have been disrupted severely. Wholesalers that supply the foodservice industry, in the face of near total closure of their primary market, are exploring direct-to-consumer sales as a means of revenue generation where their own supplies are not affected. This includes major companies like Sysco in the US.