Refresco CEO Hans Roelofs
Andy Morton speaks to Hans Roelofs, Refresco CEO for almost 13 years, about why we can expect more US M&A activity from the group. Roelofs also gives his inside take on the CCEP purchase and talks about plastic's position as a priority for the soft drinks industry.
Refresco is on a charge. In the last six months, the co-packing and private-label soft drinks producer has bought a number of new manufacturing sites across Europe, including assets from PepsiCo in Spain, Britvic in France and Coca-Cola European Partners' Milton Keynes site in the UK.

The Rotterdam-based business, a longstanding presence on the European beverage scene, has even expanded into North America, firstly with the acquisition of Cott Beverages early last year and November's bolt-on purchase of Arizona's AZPack.
You have been busy on the acquisition side of late. What's the strategy behind your recent shopping spree?
Over the past 20 years, we've created and built a company based on many different acquisitions. [Refresco was created from a merger of bottling groups Gerber Emig and Refresco in 2013.]
We've been consolidating a market that was very fragmented and from a €40-50m turnover, we're now crossing the €4bn limit.
The new acquisitions are a continuation of what we've been doing before with maybe a small tweak. We started off as a private-label focused company, so our major customers at the time were retail.
Then, since 2007-2008, we've been adding more co-packing partners, so more branded companies, who asked us to take care of their supply chain.
Ever since, we've been growing faster in co-packing than private-label. Our actual business is roughly two-thirds private-label, one-third co-packing. Over time, we're aiming for more or less a 50/50 balance.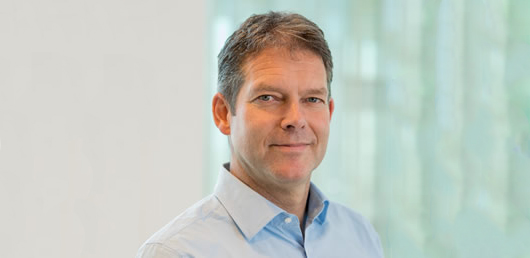 Hans Roelofs, Refresco CEO. Image: Refresco
Why are the branded companies turning to co-packing?
I think they want to put their capital where their mouth is – in brand building.

If they have distribution and professional partners like us who can take care of the supply chain and unlock that end of their business, why not do that?
I think the time has gone where they do the manufacturing themselves.
You've also had a major expansion into the US. Do you see a lot of potential there?
In Europe, we are about 12% market share; in the US, about 3%-4% in a very fragmented market. You can expect us to keep doing nice business and nice acquisitions in Europe, but you might expect us to grow faster in the US.
Was the Cott Beverage acquisition a game-changer?
Since 2007, we'd been trying to get together with Cott because we felt it would be good to create a company that covers the two continents [North America and Europe].

It took us a while to get it done, but it's gone now. It kind of restarted our adventure in the US with national coverage, with now 27 sites in the US and three in Canada.

If you look at our customer base, it's so crucial to get national coverage. It was the only way to get serious in the US. You will now see quite a lot of action from our end in the US.
Texas is an enormous growth market in the US. We have capacity there but we would love to have some more capacity. In the west, we will try to reset our footprint. In the east, we are more than fine.

We're a little short in Florida. We have proximity to our customer base. However, we would like to rebalance our capacities per region.
Can we expect more acquisitions in the US?
If you look 12 months or 24 months forward, it shouldn't be a surprise that we have more material growth in the US.
Before you bought CCEP's Milton Keynes site in the UK, there were potentially about 300 job losses there. Will you keep the same number of people working at the facility?
About a year and a half ago, CCEP announced its plans to close the plant. They had dismantled a couple of their production lines so some jobs had already have been lost. Just before the summer, we approached CCEP. We were short on can capacity and we had customers that would like more.

About six to eight weeks later, we had an agreement. Effectively, a lot of the jobs will stay for the future, especially concerning the two can lines. It's a nice symbiosis. They've [CCEP] been very cooperative, and a deal was not that difficult.
Were you looking to have a bigger production base in the UK so you could navigate any potential negative effects of Brexit?
I won't say it's fully linked to Brexit, but we think Brexit will mean you need more local production than ever before. From that perspective, it suits us nicely. The UK is an important market for us anyway, so we would probably have made this move, but Brexit will not go against the strategy.
How will production, logistics and the supply chain change in the next few years as consumer sentiment over plastic packaging intensifies?
Plastic in itself is not the problem –It's the way we treat plastic that is the problem. PET – and plastic in general – has created a safe supply chain, a safe food chain and has avoided a lot of waste in our system.

Let me say right here, plastic in itself is not the issue. However, if we treat it badly, and we use it way too much, then it becomes an issue. That's why you will see us as a very active ambassador in the market for recycling.
There is a lot of discussion in the packaging industry over which is more environmentally-friendly - glass, plastic or aluminium. Are you on the side of plastic and see it as being a better overall solution for the soft drinks industry?
I'm not saying that it's better or not better. We as a producer deal with all the packaging types – we're big in plastic or PET, we're big in cans, we're big in liquid paperboard, we're big in whatever you can imagine.
Every packaging type has its own challenge. Our approach is that plastic recycling is by far the best layout. I don't think there are other packaging types that are better from a carbon-footprint perspective, but every packaging type requires its own approach.
Is there a future for reusable bottles? And if so, is that a challenge to your business model?
I think there is a market, absolutely. I think it will cannibalise our existing market, but I don't think it will solve the plastics issue. That's why I'm a firm believer in having a good recycling system.
[Reusable bottles] will be a relatively small market. The biggest market will be the one that we are currently in. That's why we need to have recycling systems.