Riesbürg, GERMANY - Visitors to BrauBeviale 2019 will experience a "Brewing Perfection" journey where they can explore the Pentair solutions portfolio, meet product specialists, and discover more about how Pentair technologies and applications expertise can help customers to improve their brewing operation. From Haffmans quality control equipment to Südmo process valve technology; from high gravity brewing units, beer membrane filtration, CO2 recovery and water treatment solutions to process engineering and service support – our Pentair specialists at booth 9-538 can help you deliver what your customers crave - brewed perfection.
In our innovation area visitors can learn more about Pentair's brand-new Beer Membrane Filtration System, a smart steering unit which enables multiple single skids to filter and clean independently of one another – leading to a more predictable and consistent output, and reduced downtime.
Distinct taste and superior quality – that's what consumers aim for when buying your product. The constant need for efficiency, variety and flexibility in production puts additional pressure on food and beverage processors. Haffmans quality control equipment puts you at ease when it comes to product quality and optimizing the management of key parameters such as CO2 and O2 – so you can focus on that distinct taste.

As the need for efficiency, safety and sustainability in the food & beverage market increases, suppliers of process equipment have to continue to respond with advanced expertise. Whether meeting the strictest regulations or developing complete solutions – Pentair has products and services that fit, including our proprietary Südmo valve technology which can help you improve operational performance via its easy maintenance and optimized cleaning capabilities. Stop by our booth to learn more about how Südmo – the industry's quality leader – and its hygienic and aseptic process valves, valve control technology, manifolds, application engineering and service can help your business.
You are operating a state-of-the-art production plant that requires consistently high performance over its operating life cycle, which includes everything from striving to optimize production output to maintaining strict compliance with industry regulations. Together we achieve these goals via aligned service schedules, supported by adequately trained personnel, and ready supply of original spare parts and consumables so that you can run your plant at full capacity while guaranteeing required quality levels at minimum operational costs. Pentair's After Market Service program offers a variety of options, tailored to your specific business requirements. From after sales support and on-site repairs, training and supervision, original spare parts and consumables to preventive and corrective maintenance plus remote program management. Pentair can help keep your plant up and running.
That's what we call optimizing performance.
When availability and quality of CO2 sources is critical to an efficient production process, capturing and using your own food-grade CO2 becomes a valuable option. Haffmans CO2 recovery systems are designed to recover CO2 from the fermentation processes at your own brewery, ensuring a self-sufficient CO2 supply for higher efficiency, maximized resource availability and more reliable processes. Our CO2 recovery solutions include containerized and plug-and-play units based on amine and membrane technology. Let Pentair help you nurture one of your most valuable ingredients and resources: CO2.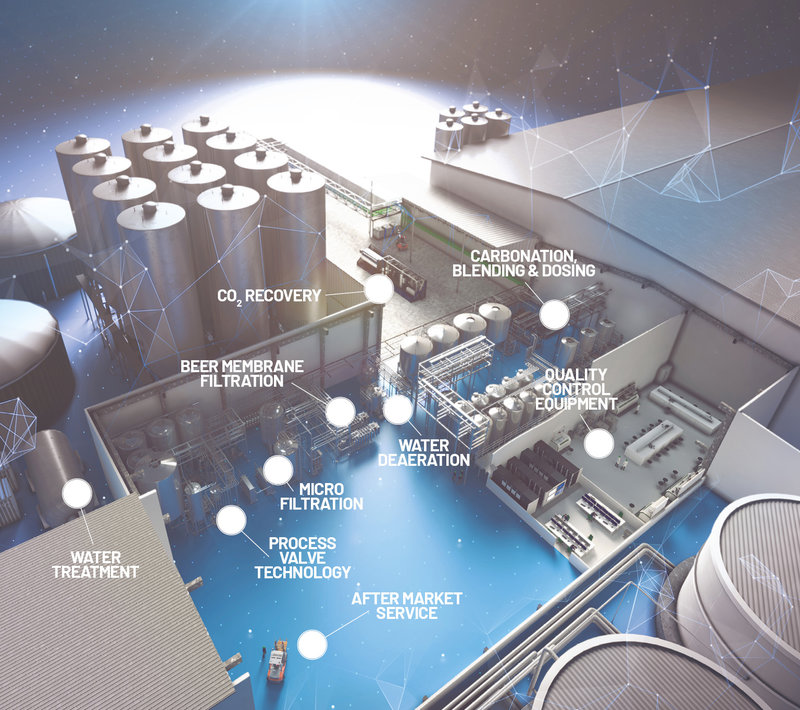 Pentair's scope of supply around a cold block area in a brewery
Beer lovers around the world are constantly looking for new taste experiences and like to enjoy various beer types. The brewer's challenge is to not only create rich, flavorful and various beer types, but also to maximize product safety, optimize output, and deliver the highest quality beer possible. Pentair's High Gravity Brewing (HGB) Technology allows you to boost your brewery's capacity considerably and offer a variety of products without having to invest in brewing house, tank or filter capacity. Pentair's engineered solutions for a high-efficiency HGB system consist of a modular membrane filtration unit, water deaeration systems plus blending, carbonation and optional dosing units. Our solutions help keep the footprint of your process plant low and help to avoid the cost associated with multiple process lines – boosting your brewing efficiency significantly.
Visit Pentair at booth 538 in Hall 9.
For an overview on Pentair's complete range of products for the food and beverage industries, visit foodandbeverage.pentair.com.
To learn more, visit www.Pentair.com.

About Pentair
At Pentair, we believe the health of our world depends on reliable access to clean water. We deliver a comprehensive range of smart, sustainable water solutions to homes, business and industry around the world. Our industry leading and proven portfolio of solutions enables our customers to access clean, safe water, reduce water consumption, and recover and reuse it. Whether it's improving, moving or helping people enjoy water, we help manage the world's most precious resource.
With approximately 130 locations in 34 countries and 10,000 employees, we believe that the future of water depends on us. Our 2017 revenue was $2.8 billion, and we trade under the ticker symbol PNR.