We at TÖPFER KULMBACH are committed to sustainability in everyday life. The entire company is focused on this. Our daily activities always take into account the implications for the future. This applies to ecological, economic and social aspects.
Our entire innovation management focuses on ecological and economic sustainability.
With TÖPFER KULMBACH you are well prepared for 2025.
NATURELINE BY Töpfer KULMBACH
MORE THAN SUSTAINABLE LABELS AND PACKAGING
The paper used for Natureline labels is 100% recycled fiber.
It therefore comes from 100 % post-consumer fibers.
But NATURELINE by Töpfer is more than just label paper made from recycled fibers - special treatment in the machine and care in printing make it a label that is in no way inferior in terms of processability, alkali resistance and brilliance to labels on paper made from virgin fibers.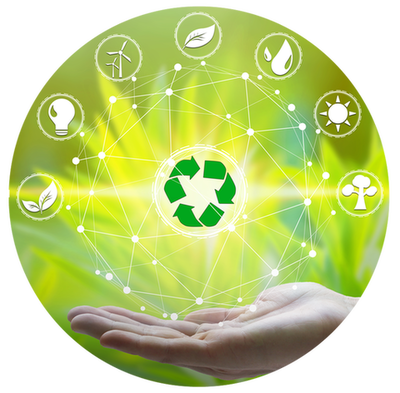 Cradle to Cradle® is a basic idea guided by nature with very high requirements, in its approach the concept appears more innovative than the other certificates. It is based on closed cycles that do not generate waste and preserve valuable raw materials. This means, for example, that if the materials used in the printed product can be returned to a biological cycle, then the deinking sludge would no longer be a waste but a valuable nutrient. For example, this system completely excludes many substances from the "Banned Lists of Chemicals".
The biodegradable labels of Natureline by Töpfer Kulmbach are produced using a cradle-to-cradle silver certified printing ink system.
The electricity used to produce the sustainable labels is produced 100% from renewable energies and is EMAS-certified. This is a voluntary eco-management scheme set up by the Member Communities. Certified companies can thus present an environmental statement in which environmentally relevant activities such as resource and energy consumption, emissions and waste are recorded.
NATURELINE – READY FOR ECO-DESIGN
NATURELINE – FOR A HEALTHIER BOTTOM LINE
Certain products must meet minimum energy efficiency requirements. These so-called ecodesign requirements are intended to reduce the negative environmental impact over the whole life cycle of the products concerned.
Design is at the beginning of a product's life cycle and is essential to ensuring recyclability. The European Commission promotes the closed-loop design of products and energy efficiency targets.
The methodologies developed by the European Commission to measure the ecological impact of the
Product Environmental Footprint (PEF) allows companies to make reliable, reproducible and comparable environmental claims.
The methods make it possible to identify environmental hotspots and support companies in making their supply chain more ecological and in becoming more sustainable and loop-oriented. Consumers will be able to make informed choices based on reliable information.
With the EXTENDED PRODUCER RESPONSIBILITY, companies whose product equipment shows a negative environmental balance will in future pay higher taxes and levies.
With NATURELINE by TÖPFER you always have a positive ecological footprint.