"The whole category's on fire": Brown-Forman on RTDs
Olly Wehring speaks to Brown-Forman's president for the US & Canada, John Hayes, to find out more about the company's Pabst tie-up for Jack Daniel's 28-year-old flavoured malt beverage stable.
Last December, Brown-Forman announced details of a partnership approach for its Jack Daniel's Country Cocktails brand extension in the US with Pabst Brewing Co. The news came six months after the group rolled out a three-strong Canned Cocktails line from its flagship trademark in the country.
Olly Wehring: why have you made this deal?
John Hayes, Brown-Forman president for the US & Canada: Unlike the way we do RTDs in the rest of the world, Jack Daniel's Country Cocktails is a malt-based beverage. Everywhere else, we have a spirit-based beverage. In the US, things like the laws, the taxation, the supply chain, sales, and account management are essentially in the beer business – it's not in the spirits business.
Where you are in the UK, the differences are not nearly as great. The only country in the world where we're selling malt-based Jack Daniel's RTDs is the US.
In the malt-based business, we've come to the conclusion – and we've thought about it for years – that we need a malt partner who has more of the expertise in the full supply chain management, from production into distribution and sales.
What's the situation with tax rates on flavoured malt beverages (FMBs) and spirits-based RTDs in the US?
The rate of taxation on spirits-based RTDs is significantly higher than FMBs. It's about three or four times higher.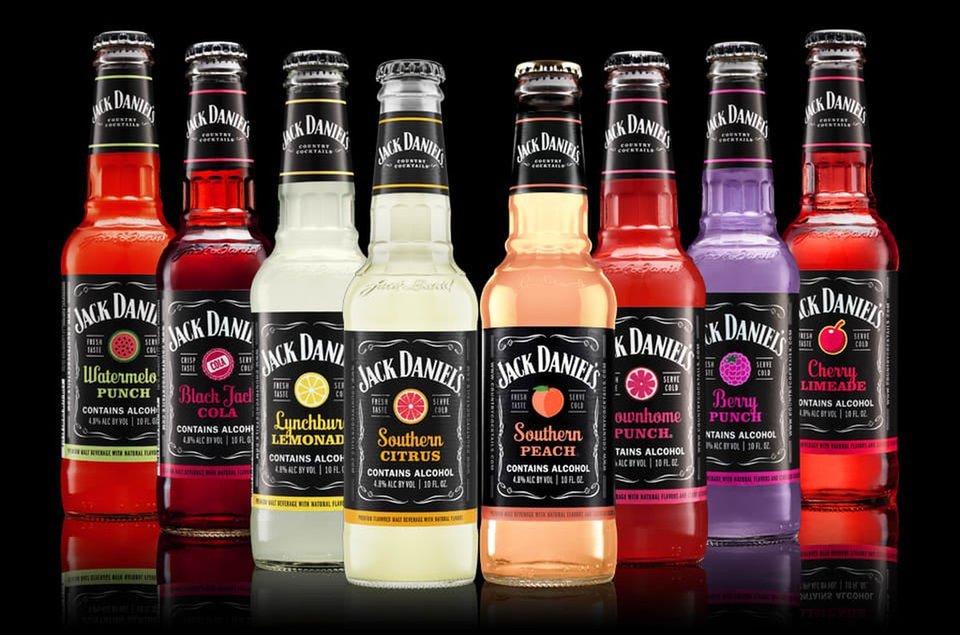 The Jack Daniel's Country Cocktail range. Credit: Jack Daniel's
Is launching an FMB brand a 'no-go' for spirits-centric companies like Brown-Forman?

It is a 'go' for us. This is a partnership. We believe the value-creation with Pabst as a partner will be much greater for Brown-Forman compared to the status quo. We're doing this to increase the value.

You've been trialling the spirits-based Jack Daniel's RTDs in the US this year. Is there a risk of cannibalisation?

We work very hard to separate their positioning, their pricing and everything that goes with it. The spirits-based RTDs are positioned as a cocktail-in-a-can. Jack & Cola and Jack, Honey & Lemonade are the drivers of what we've done, which is essentially to take the cocktail you can make at home and put it in a convenient format.
Country Cocktails are fruit-forward – They can't really be duplicated at home. Also, the Country Cocktails are 5% abv: The RTDs are 7% and have different pack-size configurations.
I don't believe one of them will take a backseat. Country Cocktails is much bigger today than the spirits-based RTDs, but we hope we'll have very significant business in both categories.
When Brown-Forman CEO Lawson Whiting sang the praises of RTDs, did he also mean in the US?
For sure! The explosion of the category began pre-Covid-19. Three years ago, we'd have said Country Cocktails was a low-priority brand for Brown-Forman – we actually thought back then whether there was a future for it. And then, there was a consumer shift.
The RTD category has always been here, of course. You can go back to California Cooler and Bartles & Jaymes in the 1980s, Zima would have been the first big malt-based beverage from Coors, Diageo created Smirnoff Ice. There are cycles in this category.
We've had ups and downs with Country Cocktails and the brand was in a 'down' phase up until about two years ago. Then, it was slowly coming back up – We really didn't change anything; the consumer did.
[The pandemic], for sure, has contributed to the explosion. And, it's not just us: The whole category's on fire, to the point that the supply chain can't keep up – look at production, look at cans. Pabst's supply chain capabilities are one of the reasons why we're going to be working with them.
I have to ask you about Jack Daniel's Tennessee Whiskey. The mark hasn't had the best of times in 2020 (global sales down 7% in six months to end of October). Why?
I think that's really unfair. You've got to remember that 25 years ago, it was Jack Daniel's Black Label as a stand-alone brand, by and large. Today, the family includes Gentleman Jack, Tennessee Honey, Apple, Fire, and so on. It's a broad trademark. Of course, Black Label's going to have some cannibalisation, and we're investing behind it.
But, please, look at the full portfolio of Jack Daniel's – that's how we're looking at it.
Main image: John Hayes, Brown-Forman president for the US & Canada. Credit: Brown-Forman