- ECONOMIC IMPACT -
Latest update: 20 January
Jobless rate in the Eurozone declined to 8.3% in November 2020 from 8.4% in the previous month, according to Eurostat.
According to the OECD, the unemployment rate in OECD nations declined marginally to 6.9% in November 2020 from 7.1% in October 2020.
The World Bank forecasts global economic growth at 4% in 2021 as vaccine rollout becomes widespread.
Fitch Ratings revised its economic growth forecast of the UK for 2021 to 5% from its earlier estimate of 4.1%.
Impact of Covid-19 on employment outlook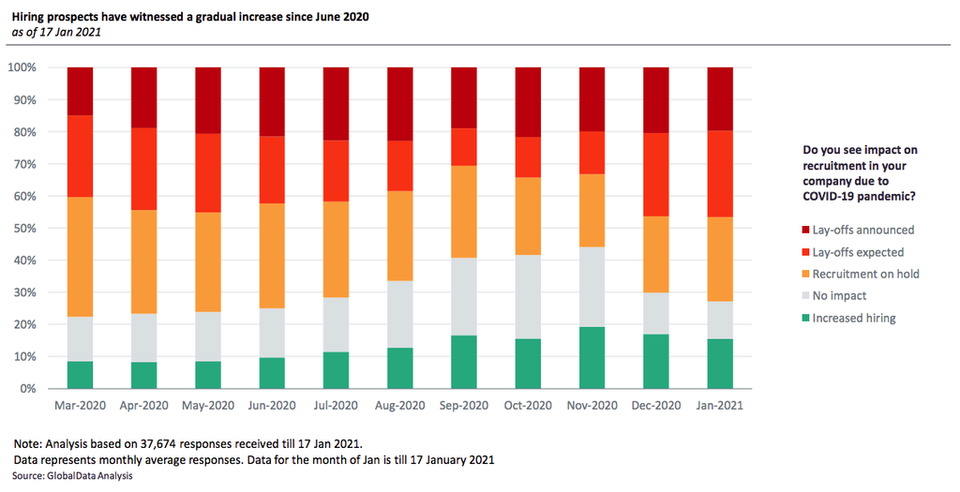 - SECTOR IMPACT: DRINKS -
Latest update: 3 February
Coca-Cola Bottlers Japan recently offered voluntary redundancy to 900 of its employees.
Heineken plans to reduce its headcount in South Africa by 7%, which it attributes to the coronavirus and the alcohol ban in the nation.
GlobalData's latest forecasts show a decline of 3.8% in consumer products for 2021 compared to baseline predictions, equivalent to $341.5bn in lost revenue.