Deals activity by geography
Food industry deals, as captured by GlobalData's Food Intelligence Centre, are down year-on-year (YoY) across most regions.
Europe is leading in terms of deal value, but also recorded a slight decrease in YoY growth in deals volume at -2%. Middle East and Africa, ranking last in terms of deal value, also suffered a downward YoY change, with deal volumes at -21%.
The volume of deals recorded by GlobalData also decreased YoY in North America (-9%) and South and Central America (-21%). Despite the general decrease globally, Asia-Pacific recorded a YoY gain of 26%.

Deals activity by type
| | | | |
| --- | --- | --- | --- |
| Deal type | Total deal value (US$m) | Total deal count | YoY change (volume) |
| Acquisition | 983693 | 3745 | 86 |
| Asset Transaction | 204218 | 1280 | -51 |
| Venture Financing | 7662 | 1111 | 69 |
| Equity Offering | 116556 | 1094 | 28 |
| Debt Offering | 687403 | 972 | 109 |
| Partnership | 724 | 739 | N/A |
| Private Equity | 85764 | 500 | 612 |
| Merger | 61604 | 99 | N/A |
A breakdown of deals by type and volume shows a general positive trend, with the only negative YoY change showing in asset transaction: down -51%. Equity offerings are up 28%, venture financing up 69%, and aquisitions have increased by 86% YoY. Debt offerings increased 109% in volume YoY, and Private equity 612%.
Deals activity by sector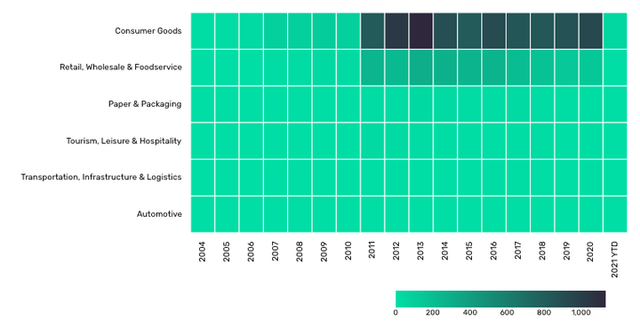 The most notable development apparent in GlobalData's analysis of beverage industry deals by sector is the decrease of deals across all sectors. Consumer goods remained the leading sector by deals volume after several strong years of growth and remains relatively stable. Retail, Wholesail and Foodservice saw the largest decline in its total volume, with a drop of over 100.
Note: All numbers as of 4 February 2021. Deals captured by GlobalData cover M&As, strategic alliances, various types of financing and contract service agreements.
For more insight and data, visit GlobalData's Consumer Intelligence Centre.
Latest deals in brief
Coca-Cola European Partners receives approval to acquire Coca-Cola Amatil
Coca-Cola European Partners Plc, a UK-based bottling company that engages in marketing, production and distribution of Coca-Cola products, has received regulatory approval from the Australian Foreign Investment Review Board to acquire Coca-Cola Amatil, Ltd., an Australia-based manufacturer, distributor and marketer of carbonated and non-carbonated beverages.
The proposal implies an equity value of CCL on diluted basis of approximately AUD8.7bn ($6.2bn) and an enterprise value of AUD10.8bn ($7.70bn).
Apollo Global affiliates to acquire stake in metal container plants from Anheuser-Busch InBev

Affiliates of Apollo Global Management Inc and its subsidiaries, along with a group of institutional investors, have entered into agreement to acquire 49.9% stake in US-based metal container plants of Anheuser-Busch InBev, a Belgian company involved in the production, distribution, and sale of alcoholic beverages,and soft drinks, for a purchase consideration of approximately $3bn.

Keurig Dr Pepper raises $1.7bn in offering of common stock
Keurig Dr Pepper Inc, a US-based coffee and beverage company, has raised $1.707bn in secondary offering of 60 million shares at a price of $28.45 per share, or approximately 4.3% of its outstanding common stock. All of the shares have been offered by Maple Holdings B.V and Mondelez International. Maple is a holding company majority-owned by JAB Holdings B.V.
PepsiCo raises $750m in public offering of 1.4% senior notes, due 2031
PepsiCo, Inc., a US-based producer of food and beverages, has raised $750m in public offering of senior notes. The notes will carry an interest rate of 1.4% per annum and will mature in 2031. Jones Day acted as legal advisor to PepsiCo.
Fosun International's Shanghai Yuyuan Tourist Mart to acquire 70% stake in Sichuan Tuopai Shede Group
Shanghai Yuyuan Tourist Mart (Group) Co. Ltd., an indirectly-owned subsidiary of Fosun International Limited, a diversified business group that majorly engaged in financial, property, steel and healthcare businesses, has agreed to acquire a 70% equity interest in Sichuan Tuopai Shede Group Co. Ltd., a brewery company that majorly focuses on the production of baijiu and other liquor and spirits, for a consideration of CNY4,530m ($694.04m) in cash. All the entities involved in the transaction are based in China.

Rhizen signs oncology drug development deal with Curon
Swiss biopharma company Rhizen Pharmaceuticals has signed an exclusive licensing agreement with Curon Biopharmaceutical to develop and commercialise Tenalisib for oncology in the Greater China region. Tenalisib, a highly selective dual PI3K delta and gamma inhibitor, is currently in Phase II clinical development for haematological malignancies. The US FDA granted fast track and orphan drug designations for the drug candidate Tenalisib as a treatment for relapsed/refractory peripheral T-cell lymphoma and cutaneous T-cell lymphoma.