Are you aiming to create a delicious blush pink for a pink grapefruit beverage?
Look no further than SteadfastScarlet™ A.
There are so many flavor varieties to match with our color range.
The classic strawberry, raspberry, cherry, fruit punch and newer entrants passion fruit, watermelon, acai berry, goji berry, rhubarb or pomegranate.
Classic orange, lemon, grapefruit, banana, apricot, peach or more tropical pineapple, guava or melon.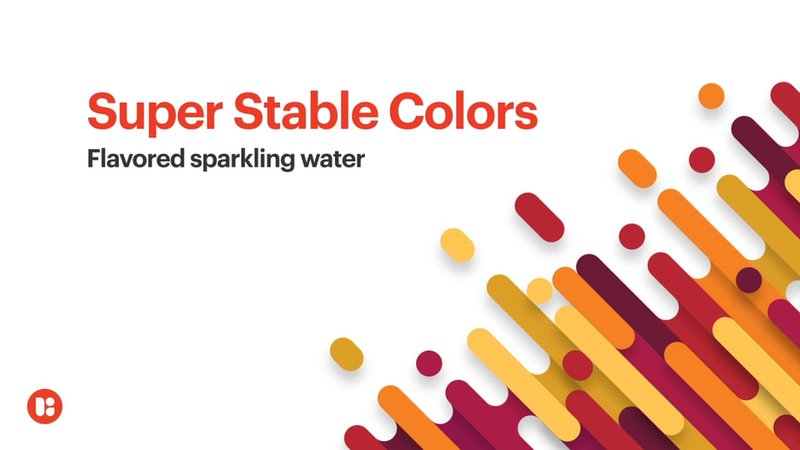 True colors shining through your beverages.
Lycored set out to test how well its cast of all-natural colors performed in flavored waters, one of the fastest-growing non-alcoholic beverage categories. Researchers conducted a study on a standard flavored water base not containing juices or fruit. The results were then evaluated on six key criteria - stability, ringing, sediment, clarity, fade and homogenization. As the flavored water recipe and process is similar to that of carbonates, this insight also applies to the carbonate category.
Lycored's cast of all-natural color shades were given a 'dress rehearsal' to demonstrate their talent and assess their performance and stability on the main stage—store shelves. Typical shelf-life for these types of beverages is six to nine months. Lycored checked for advanced talent to the 12-month mark. Those showing stability to 12 months are star performers allowing an extended shelf-life with high quality visual appeal even beyond the standard lifecycle.
Typical expressions of Lycopene and Beta-Carotene at various pH levels.
These photographs of our colors at typical ascending pH versus Black carrot highlight how consistent they are in their appearance at various pH levels.

Industry bugged by limited color ingredient choices
Lycored compared its family of lycopene based colors to four natural type alternatives, evaluating each source across nine performance and specifying criteria relative to red shade alternatives. The diagram reveals that Lycored's lycopene based colors offer the broadest utility and value from a food manufacturing and marketing standpoint. Carmine is limited by lack of vegan status, iron oxide by regulatory restrictions in the US, beet & black carrot types by stability & functionality in application.
There are many reasons to work with our lycopene-based superstable colors. Here's just a few:
Longer lasting color
Proven to withstand even the most demanding ingredients, processing, storage & lighting conditions - up to 12 months.
Great coverage
Our colors can camouflage the natural browning of many fruit juice bases, or the off-color of fruit pulp, and works well with ascorbic acid in functional or fortified beverages.
Packaging flexibility

Lasting natural colors offer you greater packaging, display and storage flexibility. You can lose the sleeves.
Clean labeling

Natural, Vegan, Kosher, Halal, Allergen-free, Non-GMO (Non-GMO Project verified), declared as 'lycopene' or 'lycopene from red tomatoes'.
Unique hues

Wonderful hues to create true to fruit and natural positioning across a variety of on-trend flavor types such as blood orange, pink grapefruit, rhubarb, watermelon and red berry directions.
Discover your perfect color match for your beverage category with Lycored's HueFinder
HueFinder is a unique online color-matching tool which allows manufacturers to find the perfect shade for food and beverage products, access valuable application specific insights and accelerate new product development or natural reformulation projects.
Using natural colors is a great way to enhance a product's consumer appeal in today's market where artificial ingredients are under increasing scrutiny. And the great news is that using natural colors in a beverage product does not mean sacrificing stability, shelf-life or visual appeal. In fact, with Lycored's super-stable colors across red, orange, gold and yellow spectrum, shelf life can actually be extended while providing consistent visual quality over processing and product lifecycle.
Lycored continues to deliver great science and even greater application experience to the beverage industry. From nature to consumer, our colors bring natural vibrancy and appeal to thousands of products that people enjoy every day.